Sagging Face - DIY Remedy

Firm your sagging face and lose face fat all without surgery. So easy you can do these facial exercises in bed!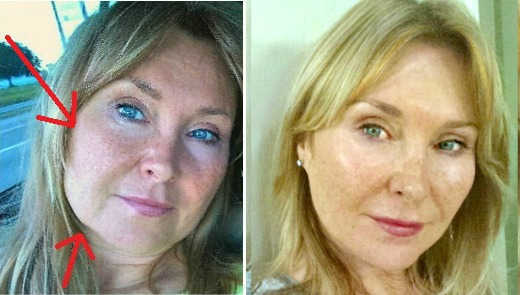 Before / After
Note: The most dramatic changes I've seen since following this face lift exercise program is less facial sagging in the lower face and jowl area and firmer more defined cheeks.
Face aging - what happens
Wrinkles and lines are not the only issues that age a face. Experts say the shape of our face changes with age. The face tends to get bottom-heavy (i.e., droopy cheeks, jowls, and double chin) as time goes on.
I decided to try face exercises to see if I can firm up the lower part of my face and reduce that heavy jowl look.
Within a few months of I was convinced you can get good results at home with facial muscle exercises. One of the first areas I noticed a huge change was my sagging neck. These results only took 8 weeks!
This is, by far, the least expensive and easiest way I've found to improve my facial contour and get a midface/lower face lift.

Face tightening results - how I lost face fat
I saw less pudginess around the lower face and jowls
What I noticed first is a reduction of that "doughy, pudgy look" around the lower jawline/jawbone. And, my cheeks look higher and firmer. Also, I think the overall skin looks tighter and smoother.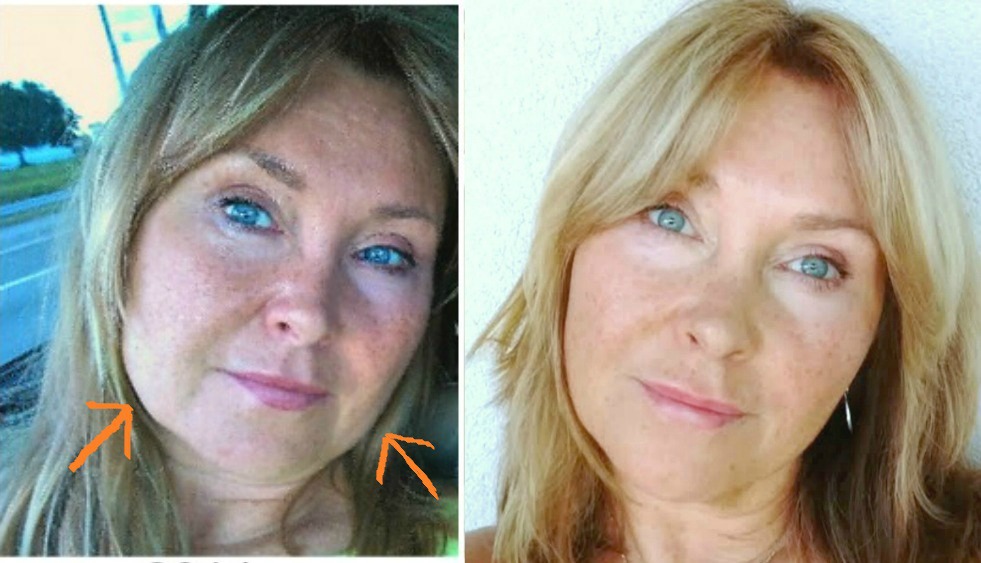 Another Photo Showing Slimmer Jowls, Defined Chin, and Smoother Forehead.
The longer I do these exercises - the more results I see. Especially around the lower jowl area. I love that the lower part of my face is slimmer - like it was when I was younger.

Sagging face treatment
I've tried several other face exercise routines - and for one reason or another – they just didn't work well for me. But when I found the CFF program, I knew this was a facelift exercise I can easily follow to help prevent and/or lift a sagging face and firm underlying facial muscles.
One important feature of this facelift program is that it incorporates isometric and muscle resistance training along with skin massaging/polishing.
The massaging/polishing helps improve skin tone. And there is some evidence that it also helps increase collagen production.
Interested to learn more about the CFF program? Click here.

How I got started with face exercises?
I started with facial muscle toning when I was in my late 30s when started to notice sagging skin around my jowls and neck wrinkles! Wow, I thought "wasn't I too young for this to be happening already" - right?
UPDATE: Check out my results and new pictures here. And see why facial muscle toning is my favorite secret non-surgical facelift secret!

Here is my sagging face remedy
So below are the exercises I do to help lift and firm my sagging face. The chart below shows all the muscles used while doing the 28 exercises. I do this workout 3 times a week and it takes 15 minutes per session.
Click on the picture below to see a colored interactive muscle chart!

A word about "spot training" face exercises
People always ask for an exercise to fix a certain area of the face that bothers them. But that's really spot training and should avoid for a few reasons.
It won't work! Facial muscles are interconnected and working on one area also helps lift another. And working on just one part of the face may result in an odd or overbuilt look.
Over time, other areas of your face will begin to sag and droop. Why not address the whole face now and look younger as you grow older!
Some people think they won't have time to do all 28 exercises. But the truth is - this workout is very quick.
Only 15 minutes a session 3-4 times a week. And, the majority of the exercises are done lying down! How simple is that?

A word about "bonus" exercises
Everyone is different and has different needs. So it's important to first build a good foundation for the whole face/neck (about 5-6 weeks).
Then if you still see areas that are not responding as well (for me it was the jowls/neck area) it's OK to do a few extra bonus exercise to firm up those areas.
This is not really "spot training" because I'm doing a full face workout weekly, I just need a little extra help in the lower face area.
For example: A few months ago I added the Lower Jaw Lifter routine to help firm up my problem areas (the jowl/double chin/neck). This added about 3 minutes to my total weekly workout, but to me, it's worth it when I see the results!
Here is a sample of this "bonus" exercise to lift sagging face and jowls.

Bonus exercise for sagging face and jowls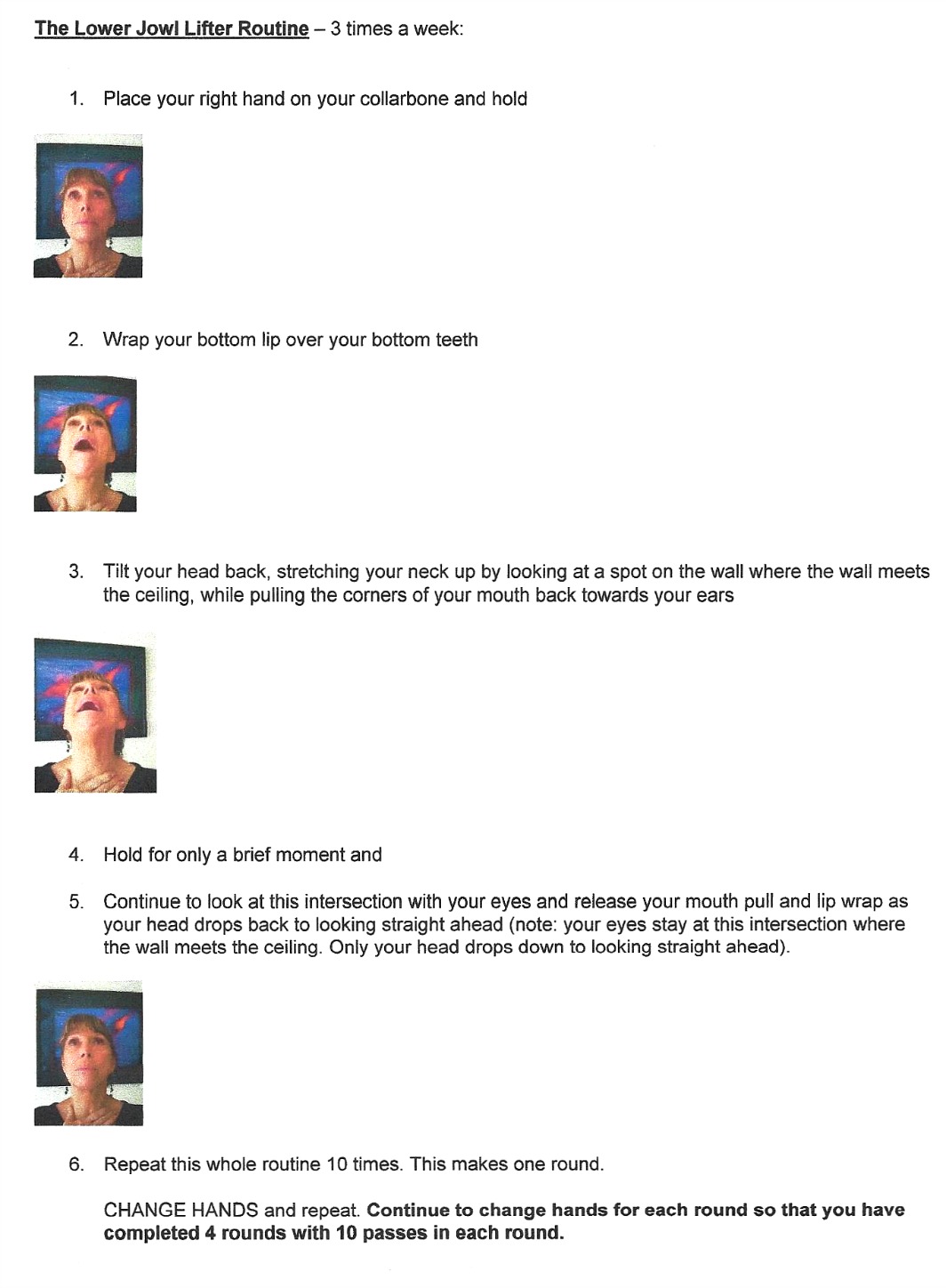 How facial muscle exercises work
Want to know how facial muscles work and how you can look younger with face exercises? Click on the following for more detailed information on why we age well with facial exercises.
But, a very basic simple explanation is this:
Unlike muscles in the body that only connect to bone - muscles in the face are attached to bone (on one end) and the other end connects to other muscles or directly under skin.
This is allows us to show facial expressions and emotions as the skin goes along for the ride with muscle movement.
The muscle/skin connection is also the reason why facial exercises can help you look younger.
When facial muscles are toned and have more bulk, they help lift and smooth the attached skin. This results in a tighter, more defined face and neck with less sagging and wrinkles.
The are many other benefits of facial toning exercises as we age...
Sagging face - other remedies
Massage
In addition to facial exercises for firmer skin consider a weekly facial toning massage with an Ayurvedic Kansa wand.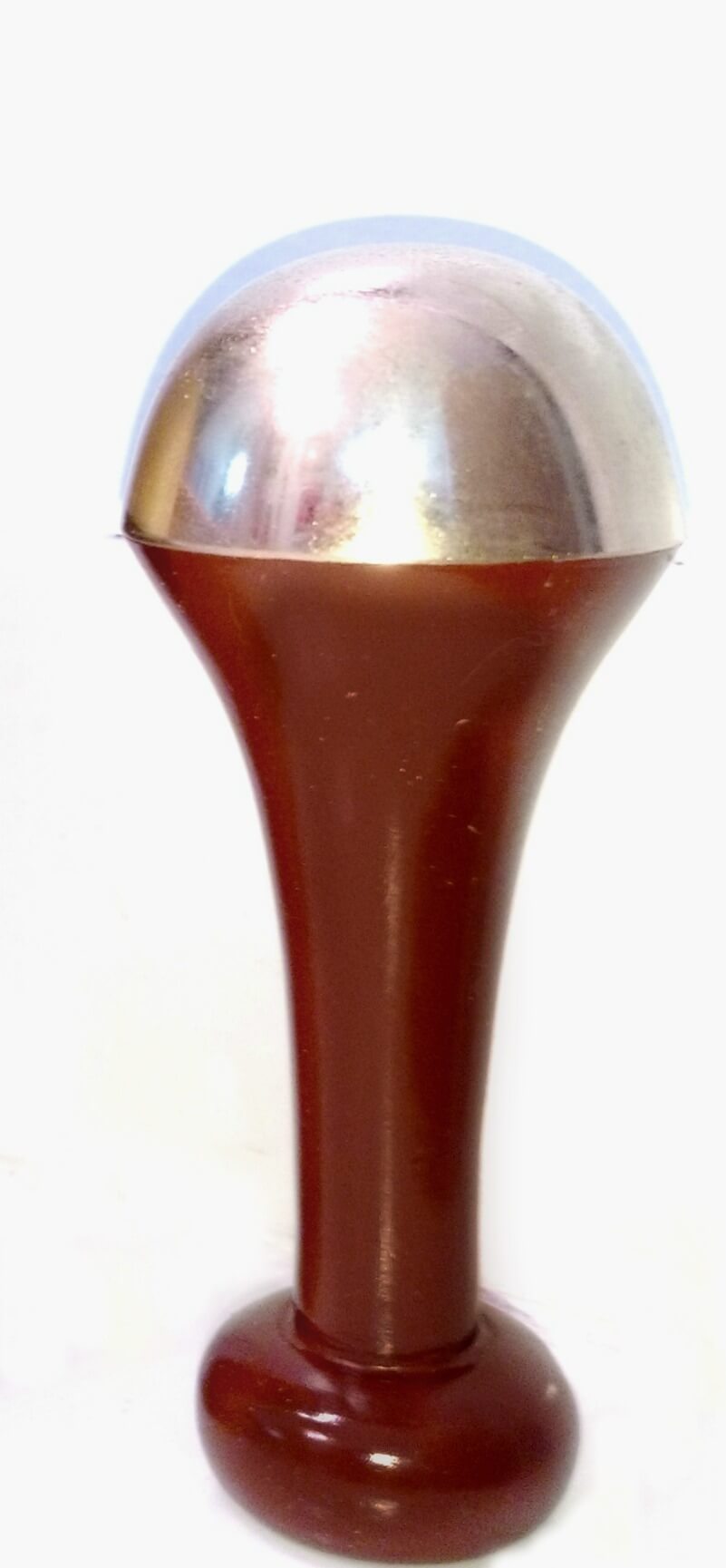 Face Lift Treatments/Massage with Ayurvedic Kansa Wand
The Kansa wand is easy to hold (this is a plus for those with arthritis or have a hard time using their fingers to massage the face). The massaging wand can help de-puff the face and encourage lymphatic drainage.

You can use this wand to massage your face, neck, chest and shoulders. Click here to watch a video and see how it works

Basic Anti-Aging Skincare
Finally, regardless of whether you choose facial exercises, facial massages or both, basic simple skincare goes a long way to help keep your skin and face looking younger.
Try these basic four skincare routines and see what a difference they can make.

Additional Reading:
Facial Toning Benefits Over 40
Face Tightening Exercises - Does it Work

Face Exercise - Key Tips for Success
How Exercises Help Facial Bone Mass
Which Face Lift Exercises are Best
Facial Exercises VS. Botox: Pros and Cons
Sagging Face Treatment
Questions/Comments or Just Wanna Chat?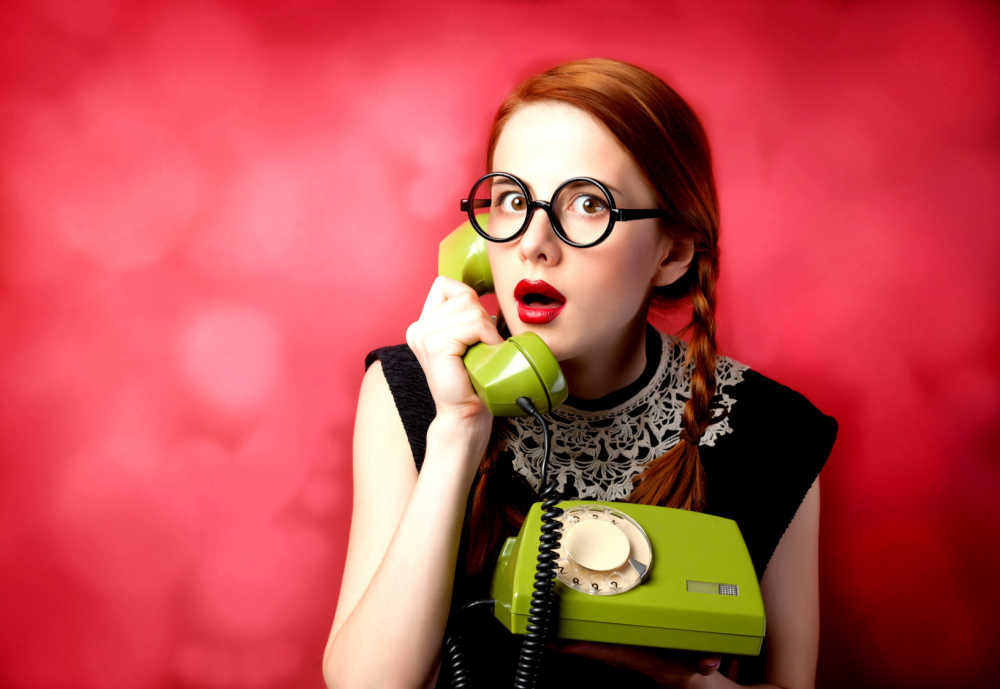 Visit the Anti-Aging Beauty Blog or contact me here.

Check us out at these locations:

ABZ Newsletter
Sign Up For Special Offers, Updated Pictures, New Product Information, Anti-Aging News, Tips and More...
Additional  Information  You  May  Like: