Get Fuller Cheeks Without Fillers
Fuller cheeks are associated with a youthful looking face. High, firm, chiseled cheekbones is a standard of beauty that will never go out of style.
Even if you were born with naturally perfect cheekbones, aging and gravity can cause cheek muscles to atrophy - contributing to the downward sag throughout the lower part of the face and neck.
As we age, the shape of our face changes from a "triangle shape" (more fullness at the top of the face), to sort of a square-ish shape (more fullness at the lower part of the face).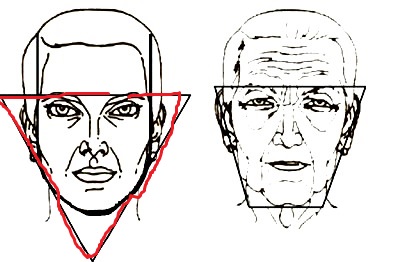 Options for fuller cheeks
Cheek fillers – I think fillers are a great addition to non-surgical options! As of this writing - fillers are the quickest way to get fuller, higher looking cheekbones.
Restylane, Radiesse, Juvéderm and Artefill are popular and effective fillers used to enhance the cheek area and other areas of the face that have become deflated over time.
And while the side-effects are minimal (bruising and swelling is the most common complaint) these fillers are not permanent - lasting anywhere from 3 -12 months - depending on how quickly your body metabolizes the filler. So this can be expensive option for enhancing cheekbones. 
Also, some people can look a little "over-inflated" for a week or two until the fillers settle in eventually leading to a more natural look. 
Cheek exercises instead of fillers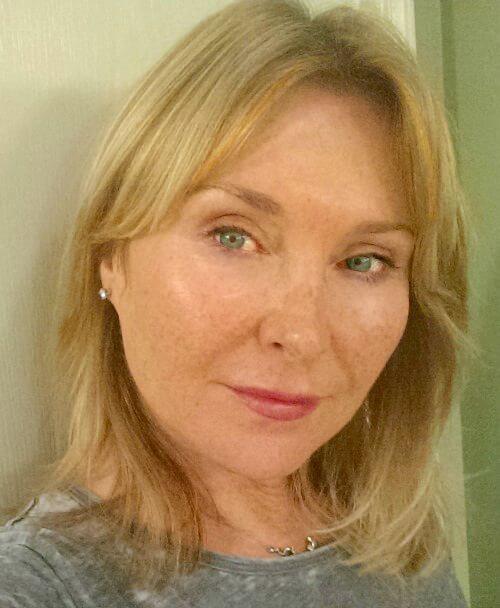 Personally, my limited experience with fillers was not so great. The fillers just made my face look bloated. Not the look I was after………………
That's what lead me to discover the benefits face exercises. 
Now I have naturally fuller cheeks AND I save thousands of dollars each year because I don't need fillers or Botox.  
I've always had naturally high cheekbones and while they served me well up until my late 40s (higher cheeks impart a younger appearance), once I got into my 50s, my cheeks started to look deflated and flattened. 
I can see that gravity was taking its toll – and not just in the cheek area but in the entire lower part of my face – especially my neck!

My cheeks were starting to droop - I needed to do something....
I knew I had to do something that not only addressed sagging cheeks, but my whole face. I tried fillers a few times in a few different places on my face – but I didn't look younger – just bloated.
Plus, it was very expensive because I was one of the few people who metabolized filler material pretty quickly, so it didn't last very long.
And, the worst part? The fillers didn't address other aging issues like a double chin, droopy jaw line, or sagging neck skin.
I know I needed something that can "fix" my whole face/neck. 
That's when I learned about face exercising and while I knew I was onto something good. But finding the "Perfect" facial exercise routine for me was much harder than I thought. 
Some exercises took too much time or were too complicated. You know the old saying about exercises – if you hate them or find them tedious – you won't do them!
The other problem I ran into was finding a face exercise program that was gentle (not a lot of tugging or pulling) and complete. I was surprised how many didn't address all 58 muscles of the face and neck and some didn't even address the neck at all! 
After years of searching I finally found CFF - which works perfectly for me. I'm getting great results wanted and love what the massaging effect has had on my skin too. If you're searching for a facial workout program that works and is easy to do – I urge you to check this one out. 
My cheeks are naturally fuller without looking bloated
What's great about facial exercising is that you'll get the perfect cheekbones for your face shape and type. Cheek fillers may not always offer the most natural look for your particular face.  Especially if your doctor is not experienced in using fillers.
I've seen dozens of celebrities (like Brandi Glanville from the Real Housewives of Beverly Hills) who at times looked bloated due to too much filler - as she explained. Sure, it subsides after a few months – but who wants to wait that long? Plus, everyone knows that you've had something done. You can learn more about cheek augmentation here….. 
I think Brandi is beautiful and has amazing cheekbones, but maybe she should start investing in face exercises….the sooner you start, the faster you'll see results.
With the right facial exercises you can get fuller cheeks that look natural and fit your face. Of course there's always a chance of over-building the cheek area if you do them more often than needed, but you'll notice that way before anyone else does. At that point you just stop for a few days.
The key to a natural look is to perform all 28 exercises just as suggested in the facial fitness program that I use. It takes about 15 minutes, three times a week -  to keep your cheeks fuller and the rest of your face balanced and lifted. 

Home

›
Beauty Tips for The Face and Neck
› Get Fuller Cheeks
Check us out at these locations:

ABZ Newsletter
Sign Up For Special Offers, Updated Pictures, New Product Information, Anti-Aging News, Tips and More.....
Additional  Information  You  May  Like: