Eyeliner makeup tips for women over 40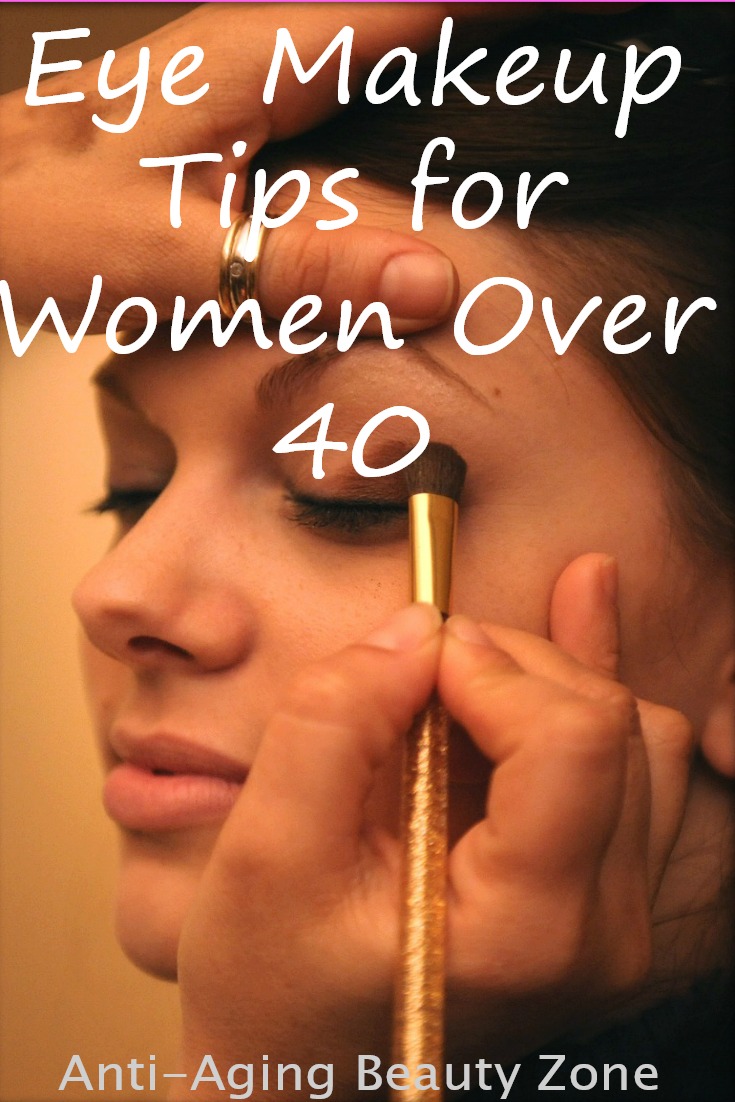 Why do women over 40 have a hard time applying eyeliner makeup? 
Is there too much conflicting information about this topic? Has it become too complicated? Well I think a little eyeliner - applied correctly - can enhance mature eyes and make them look lively again.

I love wearing eyeliner! But if you're over 40 it can be tricky. And there are hundreds of makeup artists who tell you the wrong and right way to apply it.
However, I don't like to follow someone else's rules. I do what works best for me. I think eyeliner looks sexy! If you agree, then try some of these tips...
Is there a wrong or right way to apply eyeliner?
Many blogs or YouTube videos seem to have the same eyeliner makeup tips for mature eyes; don't wear dark eyeliner, don't wear too much eyeliner, or skip it all together.
Yes, the rules may have changed for those of us over 50, but that doesn't mean we can't wear eyeliner at all. 

Here are some eyeliner makeup tips to consider
After playing around with different techniques, here are some eyeliner application styles that work well for me:

Wrong: We're told it's wrong to wear black or dark eyeliner if we're over 40 or 50. Experts say it's too harsh and may accentuate lines and dark circles.
Right: I wear a small amount of black eyeliner, but I usually apply it inside the upper eyelid rim

,

in-between lashes and sometimes right along the lash line.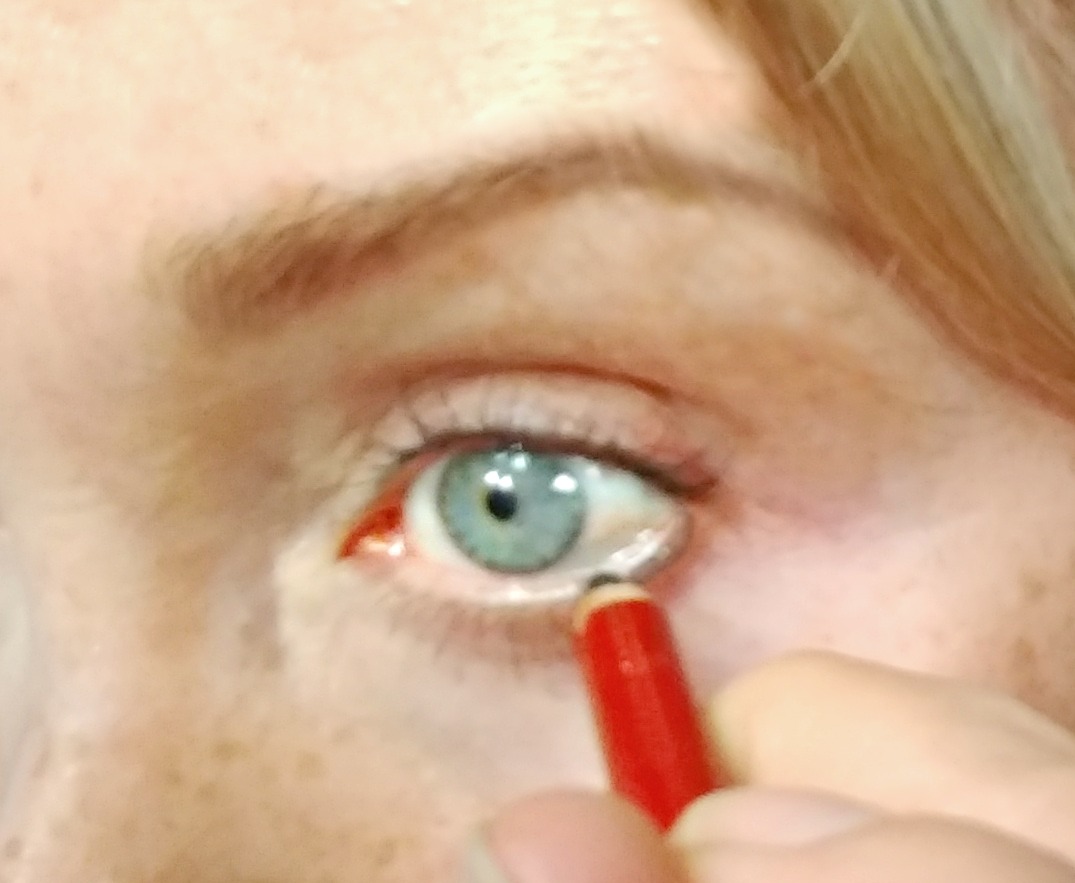 Wrong: Experts will tell to you never apply dark liner to lower lids. It will exaggerate wrinkles, fine lines, dark circles and even make your eyes look smaller.
Right: I apply a small amount of black liner to the outer 1/3 of the inner lower lid. But, I never draw the line all the way into the corners of the eyes.

Perfect eyeliner for crinkly eye skin
Do eyeliners accentuate wrinkles and dark circles around your eyes? Then stop using a pencil or crayon. Instead try a cream or gel eyeliner makeup.
Better yet, try a creamy-gel eyeliner like the one I'm using in the picture below. I'm using an eye makeup that is creamy but goes on with the easy of a gel. This creamy eyeliner is perfect if you have lines or crinkly skin around the eyes because it's water proof, smudge proof and smear proof.
And it doesn't dry immediately, so you have a few seconds to fix any mistakes easily. That' important for many women (like me) who have a hard time using liquid or gel liners. I can never seem to draw on a nice smooth line!
But after a few seconds, once it sets, it stays put!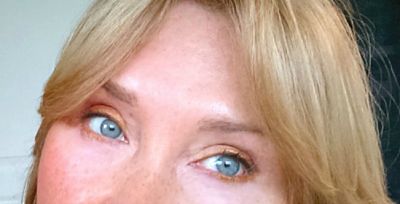 Here I'm using an eyeliner makeup called the Any Wear Cream. It's waterproof, smudge proof and comes in several different colors.

A versatile eyeliner makeup
It's called the Any Wear cream because you can use it anywhere you want a pop of color, highlight, sheen or shimmer.
For example this cream can be used as a:
cheek highlighter
eyeshadow
eyeliner
lip shimmer

The color I'm wearing is Golden Caramel on my both my upper and lower eyelids and right above my eyebrows.  Isn't a beautiful color?
What's nice about this color is that it accentuates the eyes without having to use dark eyeliner and brings a lift to the upper eye area!

It comes in 15 other gorgeous colors. Click here to see them all!

Do you find liquid or gel eyeliner makeup difficult to apply?
Me Too! Personally, I always found liquid eyeliners difficult to use and they always seem to heavy and dark.
Until I found the Any Wear Cream that comes in so many soft but beautiful and rich colors and this helpful "How To" apply eyeliner makeup video by Debra Rubin-Roberts, founder of Mommy Makeup.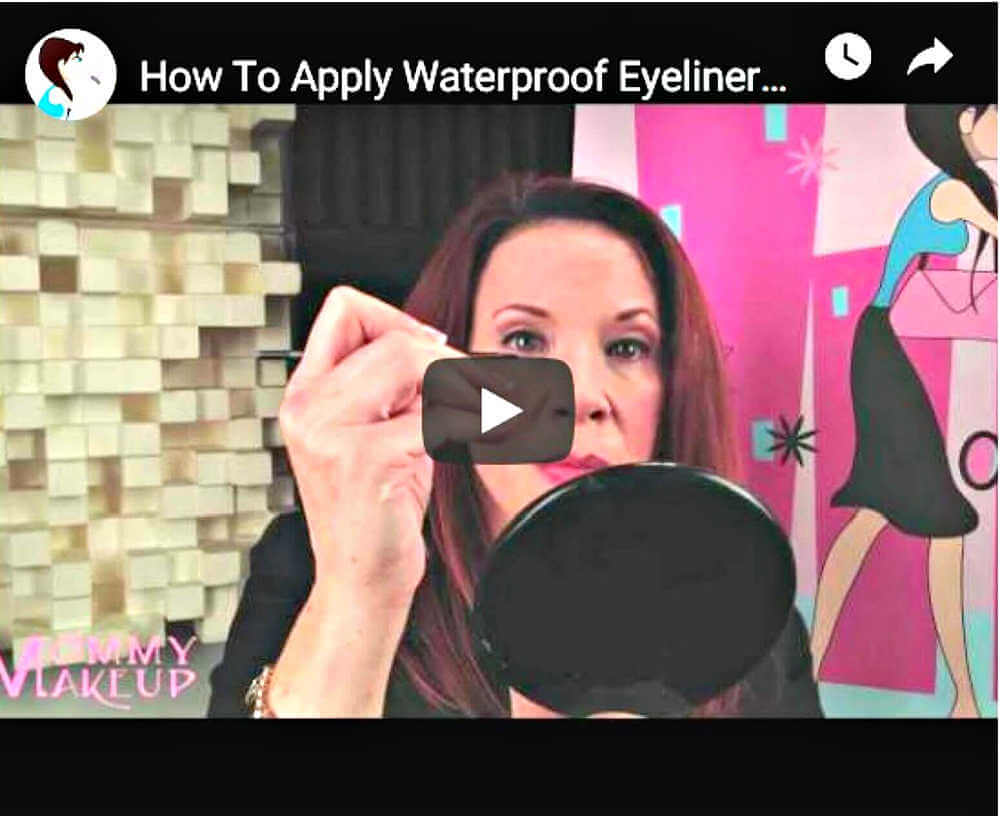 What about using white eyeliner makeup
Another eyeliner makeup trick for mature eyes that really works to brighten and open them up is applying a bit creamy white eyeliner inside or under the lower eyelids.
How to apply white eyeliner
There are many ways to apply white eyeliner, but here is what I like to do...Run a creamy white eyeliner pencil either inside the lower eyelid or right under the eyelash line.
Note: Play around with this to see which one works best for you. Some women find that applying white eyeliner to only the inside 1/3 of the eyelid works best. But, don't draw the eyeliner all the way out to the outside corners of the eye.
Then apply a dark eyeliner pencil to the upper eyelid (inside the water line). The beauty of this is sometimes a little bit of dark color transfers to your lower eyelids and highlights the eyes without looking too harsh.
But for a more dramatic look, you can run a dark eyeliner pencil to the outer 1/3 corners of the lower eyelids. As explained above.

Finally finish with your mascara. If your eyes are really puffy, skip the mascara on the bottom lashes and apply this serum on the lower lids to hide the puffiness.

Final eyeliner tips
To get the best look for your eyes, you really need to play around and experiment with different types of eyeliner makeup to see what works for you. And don't forget to give waterproof gel eyeliners a try. Many women find them much easier to use than liquid eyeliners.
And, find out what type of eyeliner is best to use on the waterline for contact wearers. Many women have issues with certain eyeliners that leave residue on their lenses.
Hopefully at the end of the day you'll find the best combination of eyeliner makeup tips that'll make your eyes just pop!
Also, head over to Eye Makeup Tips for Aging Eyes for more helpful tips for younger looking eyes. 

---
Eyeliner Makeup
Questions/Comments or Just Wanna Chat?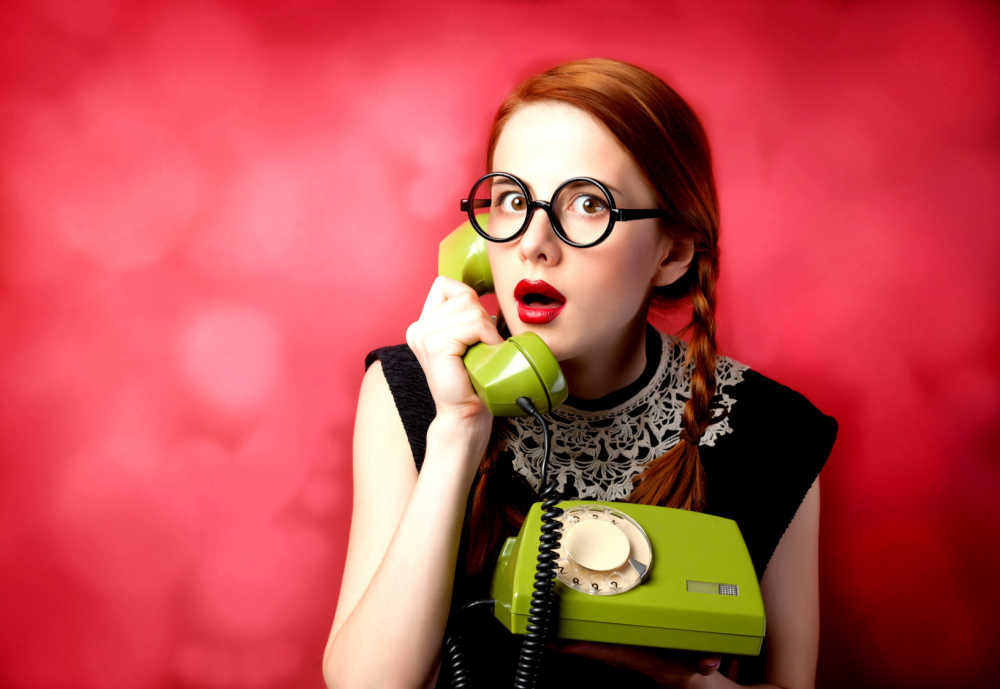 Visit the Anti-Aging Beauty Blog or contact me here.

Check us out at these locations:

ABZ Newsletter
Sign Up For Special Offers, Updated Pictures, New Product Information, Anti-Aging News, Tips and More...
Additional  Information  You  May  Like: