Best Eyeliner for Aging Eyes
In my humble opinion, there is NO ONE best eyeliner for older women. It's a matter of finding what works for your eyes and skin type.
Some think that women over 40 shouldn't wear eyeliner because it may draw attention to wrinkles, lines, dark circles, or droopy eyelids...…………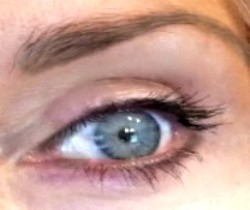 BUT, I think the right eyeliner applied correctly is a great way to accentuate the eyes and bring focus to upper part of the face. 
And quite frankly I -  think eyeliner looks sexy!

So, let's find your best eyeliner style. Here are some things to consider when choosing eyeliner: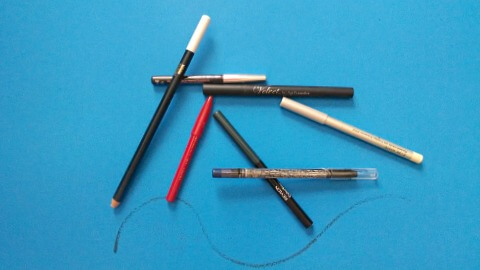 C

hoose a color that fits your complexion. Most older women should avoid black 

C

hoose a type of eyeliner (gel, liquid, pencil) that you're comfortable using
I almost 60 yrs. old and find a creamy gel or waxy pencil eyeliner easiest to apply with less tugging and pulling.
Eyeliner color tips
Color is important.
Regardless of the type of eyeliner you choose make sure the color compliments your skin tone.
A harsh color will draw attention to lines, wrinkles, puffiness, dark circles, droopy eyelids or those tiny little crinkles we tend to get on our upper and lower lids...……..
NOTE: See my 5 minute tip  to "hide" tiny undereye lines and crinkles!
Personally, I  like to use muted rich colors like dark plum, dark brown, or deep blue.
However, use your own judgement and experiment, experiment, experiment.
For example: Many makeup artists suggest brown or taupe eyeliner colors for mature eyes. But, these colors make my eyes and lids look red and tired. So experiment and find your own style.
Note: If I'm using a waxy pencil, I can even get away with using black. Why? Because the waxier the pencil, the less pigmented it is and the less color it deposits. So it rarely looks harsh.
What type of eyeliner is best?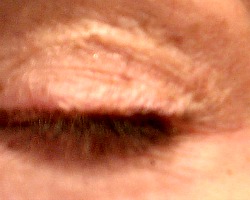 So many eyeliner choices! Thick soft eyeliner crayons, thin waxy pencils, liquids, gels, powders...……
Well, here is a tip consider:
As we age, the thin skin on the upper lids tend to crinkle - especially when we close the eye shut to apply makeup.

So when we apply eyeliner it tends to skip  – looking blotchy and uneven along the upper lash line. This is a messy look and draws attention to the crinkles/wrinkles instead of your beautiful eyes!

Some work around this problem by pulling or stretching the eyelid skin - not a good idea.
Instead if you have very loose or crinkly upper eye lid skin, try a creamy/gel eyeliner. It will glide on smoothly and fill in wrinkles and gaps creating a nice smooth  and soft look.
UPDATE: Watch this video for professional tips on applying gel liners without damaging eyelid skin.
Creamy Gel Eyeliner
A great option is a creamy gel that won't melt or disappear in the middle of the day. It's water and smudge proof, but not so quick to dry that you can't play around with it before it sets in.
Try to smudge it into the lash line for a subtle casual look.
OMG! I love this creamy liner in Black Orchid. The color is gorgeous!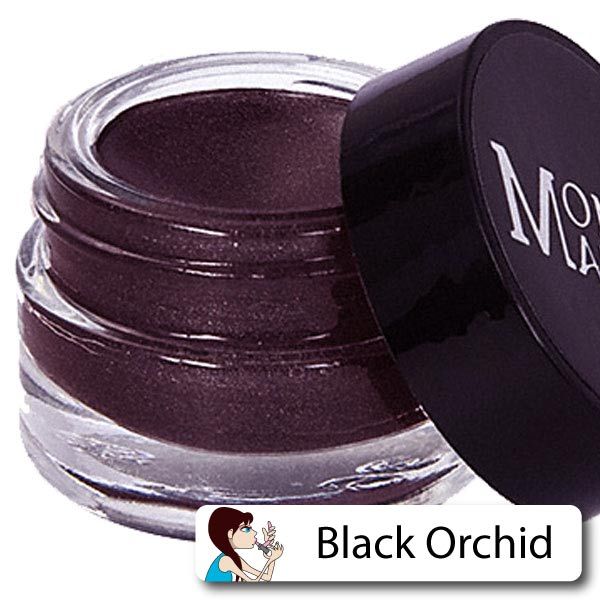 PLUS: By "smudging" it directly into the upper lids (as opposed to drawing a thick eyeliner line) you won't accentuate droopy eyelids.

These creamy gel eyeliners were developed by professional makeup artist Debra Rubin-Roberts. She offers no frills, inexpensive, easy to use, quality makeup. Check out all the other beautiful colors.

Crayon and pencil eyeliners

I've tried crayon eye makeup liners like L'Oreal's Smoldering Pencil. It works great if you only line the upper lids. But it didn't last long for me, so it's not my favorite.
But, this pencil is perfect for those with unsteady hands or poor eye sight!
Because it's so thick it glides on easily and quickly and you usually only need one swipe to line your lids with rich color.

You can easily find this type of "crayon" eyeliner in drugstores or on Amazon.
Problem? Your creamy eyeliner color disappears halfway through the day? Apply a thin layer of similar colored eyeshadow on top to seal it. Or give waterproof gel eyeliners a try!
In addition to creamy gels, I like pencil eyeliners for the daytime. I can use pencil liners on my upper and lower lids. 
Most people will tell you that women over 40 shouldn't wear eyeliner on their lower lids. But, I think you can make it work if you apply an eyeliner that does not deposit too much color.
Usually, the very waxy type of pencils work best like Maybelline's Eye Pencil. It's very easy to work with since it's waxy and doesn't go on too thick or dark. Pictured below...

I apply a small amount of this eyeliner to the outer 1/3 corners of my eyes....making sure to smudge it into the lash line.
Because it's waxy, you have to press a little harder to get color deposit, but it lasts all day. Especially, when you smudge a bit of eyeshadow on top.
You can find this pencil in most all drugstores or on Amazon.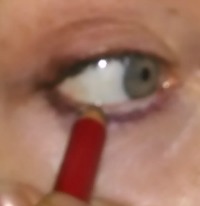 best eyeliner tips for daytime look
If you're not comfortable wearing dark eyeliner colors during the day, but still want your eyes to POP and standout, here is an alternative option:
Try a golden/caramel champagne cream gel eyeliner. This, when combined with a nice layer of black mascara, gives a beautiful subtle yet eye popping look.
Se my picture below....
Update: I found a product called Any Wear Cream that can be used on the eyes, cheeks, lips..........anywhere you want color or highlighting. I use it as an eyeshadow, highlighter and to line my and upper and lower eyelids.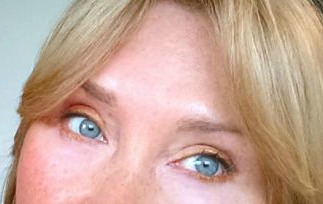 Any Wear Cream (Golden Caramel) on upper and lower eyelids and above eyebrows to brighten and highlight the upper face!
To make my eyes stand out more I've also added black mascara for a more dramatic effect.

TIP: This is a great option for aging eyes because the golden caramel color is subtle but still defines the eyes without drawing attention to crinkly skin or lines/wrinkles - especially those under the eyes.
best eyeliner tips for nighttime/dramatic look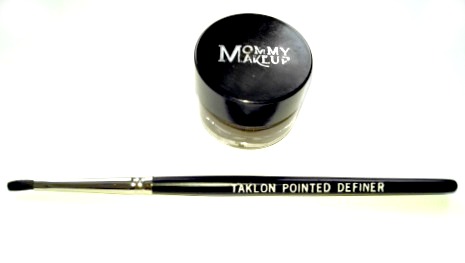 I love the Black Orchid Eyeliner by Mommy Makeup. For a more dramatic evening look, I just apply a thicker line on my upper lids and also line the inside (water rim) of the upper lids.
But, before you try this – make sure the eyeliner you're using won't irritate your eyes. I have very sensitive eyes but Mommy Makeup gel eyeliner is one of the few that won't bother my eyes.
I apply the gel liner on the outer 1/3 of the inside lower lids too for a more dramatic nighttime look.
So, there you have it..........there is no reason why us women (over 40, 50, and beyond) can't have some fun with eyeliner makeup.
Choosing the best eyeliner is simple when you understand how to apply them.
More Tips:
---
Home

›
Makeup How To
› Best Eyeliner for Aging Eyes
Questions/Comments or Just Wanna Chat?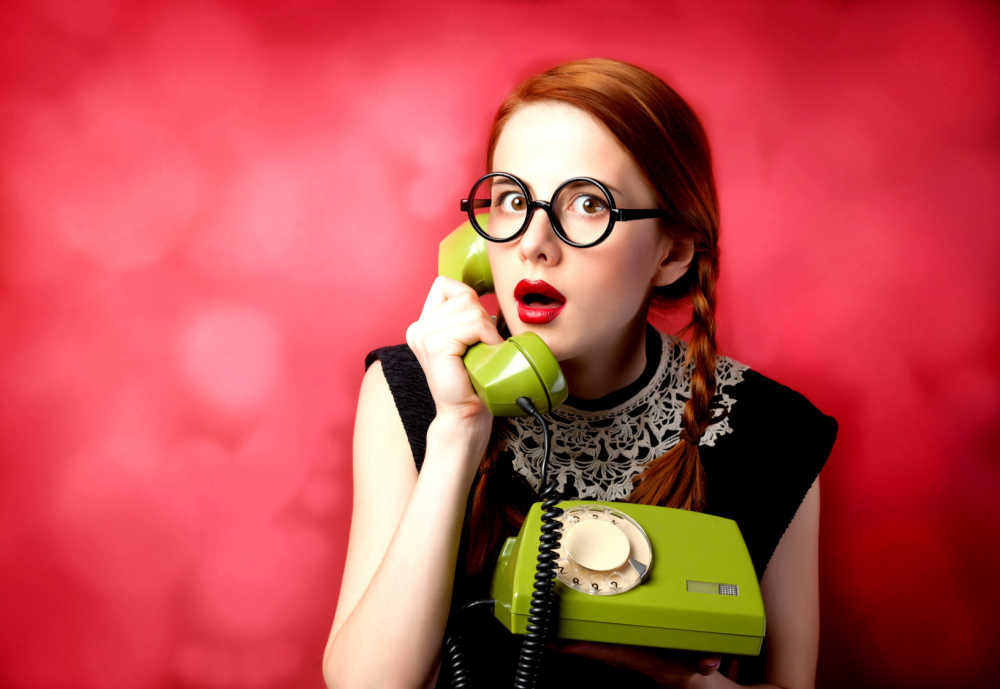 Visit the Anti-Aging Beauty Blog or contact me here.

Check us out at these locations:

ABZ Newsletter
Sign Up For Special Offers, Updated Pictures, New Product Information, Anti-Aging News, Tips and More.....
Additional  Information  You  May  Like: