Face Lift Treatments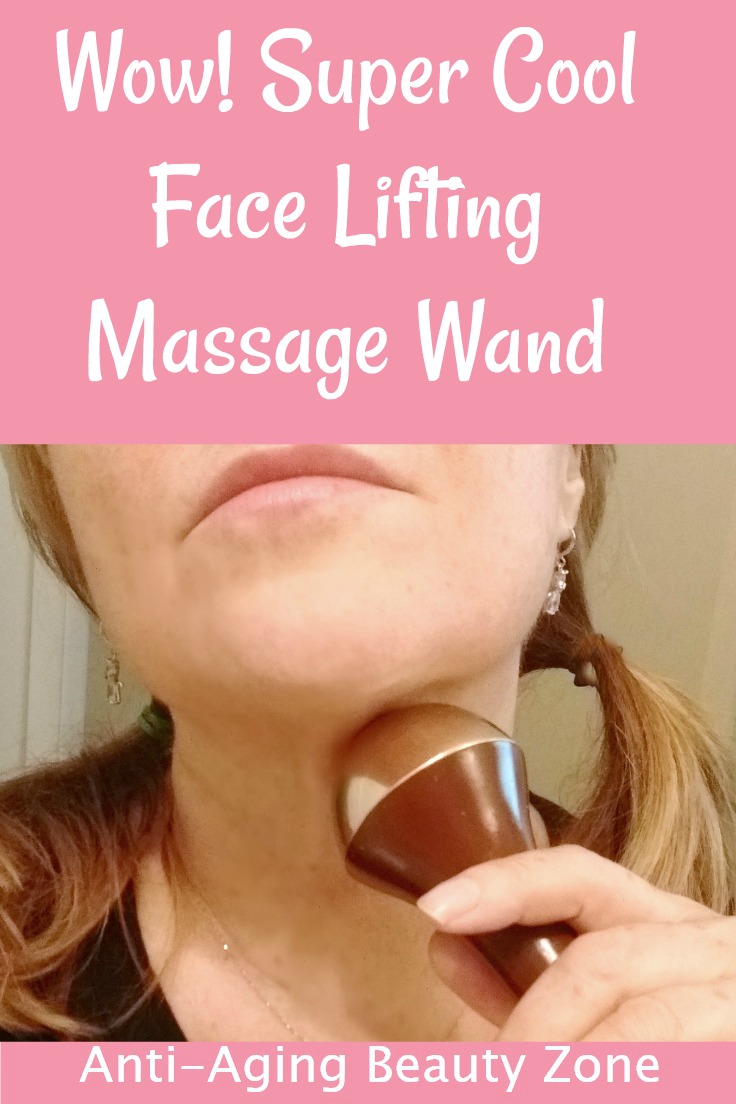 I'm always looking for Face Lift Treatments that can be done at home, are non-surgical, and cheap. Also, they must really work!

That's how I came across this lovely and relaxing Ayurvedic massaging wand that helps your skin age well. 
I LOVE THIS WAND!
It has now been added to my 2 other favorite face lift treatment products (see those products below...) as my daily "go to" massage routine to help smooth out wrinkles and tension from my face and neck.
The Kansa Wand is a simple wooden handle with a special bronze dome that - according to Ayurveda medicine - has beneficial effects on the skin. 

In India, bronze is considered a healing metal................While I don't know much about healing metals - I do know that this wand feels wonderful as it's massaged on the skin.
Once the bronze dome makes contact with the skin - it begins to warm up as it glides so smoothly across the face.
Afterwards my face feels so relaxed, especially the areas around my forehead, in between the eyebrows (where we hold a lot of tension) and around the eyes and temples.
This type of massaging wand has been used in India for centuries to promote healthy skin and reduce stress.

Face lift treatment with kansa wand

I know how effective facial massages are for firmer, smoother skin.  I've been doing them for years (along with my bi-weekly face exercise routine) - you can see my results here...

When your stressed, tense or tired, it shows in your face. The tightness and tension of certain facial muscles can cause the whole face to look tight, pinched or saggy.

A healthy skin massage on a regular basis not only improves circulation but helps relieve tension in facial muscles – which can contribute to a more relaxed, smoother, lifted appearance.

However, massaging the face for long periods of time can be hard on the hands and fingers – after a while they can get tired or sore.

That's why I love massaging with the wand.  Not only is it easier on my hands, but seems to bring a calm, stress less feeling to my mind and body. 

The best part is you can give yourself an anti-aging face massage anytime –  while watching TV, reading or checking your Facebook page.

so how do you use it? Simple

Just lightly apply some organic oil all over your face and neck.  I use the oil that came with my Kansa Wand. But any good quality organic oil will work.........
Place the bronze dome on your face and with moderate pressure begin to massage your face starting at the top of your forehead (make sure to concentrate on the forehead wrinkles) and in between the eyebrows. We hold lots of tension there!




Then slowly work your way down your face and go all around the eyes massaging in circles around the crow's feet, and temples. Don't forget to spend some time working those crow's feet.



Don't forget to massage the crepey skin on your chest too....
My List of natural face lift treatments
For best and most successful results I prefer to use a variety of natural, safe, and inexpensive anti-aging/face lift treatment routines. 
1. Kansa face massaging wand has been added in between my regular beauty routine. I especially love using it when I'm tense, tired or just I don't feel like doing facial exercises or cupping.
It's different because it's a simple, easy to hold, and I don't have to think about what I'm doing…………I just glide it across my face and neck.
This tool is especially useful for those with painful or arthritic hands and fingers and my have a hard time using other anti-aging face lift treatment tools and exercises.

Plus, the wand massage helps to relax not just the face, but the mind and too!
2. Facial cupping. These tiny suction cups help lift, massage and rejuvenate the skin. They also work wonders to help "debloat" puffy areas of the face like around the eyes and under the chin.

3. Face Exercise routine. Of course this is still the most important and nothing comes close to firming up underlying facial muscles naturally.  The other treatments listed above are additions to my bi-weekly face exercise routine.
Great Gift Idea
The Kansa Wand would make a great anti-aging gift for a woman or man.  Especially if they have issues with arthritis.
It' easy to hold and very gentle on the hands, while allowing you to give yourself an effective facial, neck, and should massage!

Home

›
Sagging Face
› Face Lift Treatments -DIY
Check us out at these locations:

ABZ Newsletter
Sign Up For Special Offers, Updated Pictures, New Product Information, Anti-Aging News, Tips and More.....
Additional  Information  You  May  Like: