Roloxin Review
As promised, here is my Roloxin review... I was so excited to try the Roloxin Lift Mask, a creamy white serum that dries into a tightening and lifting mask.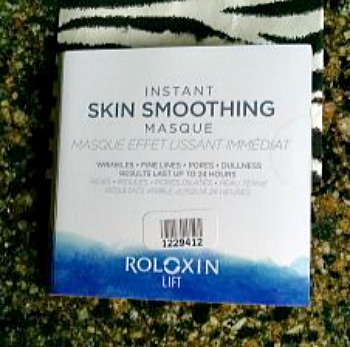 However, the price for a box of 10 single serving packets of Roloxin was a about $110.00 per box! OUCH!

A little pricey for everyday use. But hey if it works, and I see a huge difference - I'll find a way to pay for it :-)
So I searched around for a site that sold separate sample packets. I wanted to review Roloxin before spending that much money for the whole box. 
Fortunately, I found Roloxin samples on-line and bought 2 packets. As soon as my samples came in the mail, I was excited and immediately tried it!
As the directions stated, I washed my face, opened up a packet and applied the creamy mask all over my DAMP face (including under the eyes) and on my neck and chest.
Note: Keep in mind that it's very important to apply this cream on damp skin.

Then wait for it to dry, which took about 10 minutes. It dried into a white, tight, film across my skin.
Once it dried, I rinsed off the mask with my hands and plain water (as instructed) and applying my normal moisturizer. Then I let my skin dry and evaluated its appearance.
Roloxin review - results?
My results/review? Well, it's hard to say. Upon close examination, I did see a slight difference in the look and feel of my skin.
Unfortunately, the subtle differences in my skin didn't show up very well in the photo below which was taken with my smartphone camera.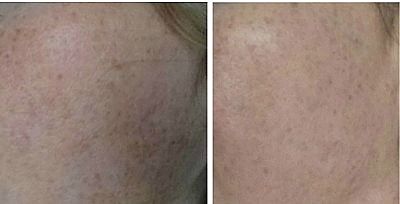 My before and after pictures after using the Roloxin Mask.
As you can see I have natural freckles and the Roloxin mask seemed to make my skin tone lighter and more evenly toned...Almost like I was wearing a matte makeup foundation.
Also, my pores seem smaller and less visible. All-in-all my skin looked and felt smoother to the point where I could go out without face makeup - if I used this mask on a daily basis.
If you suffer from greasy or oily/shiny skin, the Roloxin Mask will also help reduce that look. It doesn't dry your skin out, but my skin felt less oily.
What about a face lift and firm?
I can't say that I saw any noticeable difference in the firming or lifting of my face - especially around the eyes, jowls, or neck.
But, then again, I've been doing facial exercises for a few months and saw incredible results - especially around the jowl and neck area. So maybe I'm not the best person to review Roloxin for it's lifting and firming qualities?
What does the Roloxin Mask do?
The Roloxin Lift Instant Skin Smoothing Masque, commonly known as the Roloxin Mask, is designed to provide temporary skin benefits that can make your skin appear better in the short term. Here's how it works:
1. Instant Smoothing: One of the primary benefits of the Roloxin Mask is its ability to instantly smooth the skin's surface. When applied, the mask forms a sheer, invisible film on your skin. This film can help fill in fine lines, wrinkles, and uneven texture, creating the appearance of smoother and more youthful skin.
2. Tightening and Firming: The mask can have a temporary tightening and firming effect on the skin. It may help reduce the appearance of sagging or loose skin, giving your face a more lifted and toned appearance.
3. Brightening: Some users report that the Roloxin Mask can brighten the complexion and improve the skin's radiance. This can make your skin look healthier and more vibrant.
4. Pore Minimizing: The mask may also have a pore-minimizing effect, making enlarged pores appear less noticeable.
5. Makeup Application: The smooth canvas created by the mask can provide an excellent base for makeup application. Makeup may go on more evenly and last longer, helping you achieve a flawless look.
Note: The major downside I found is that the effects of the Roloxin Mask are temporary. For me, it's only last for several hours.
That's why I only use it right before special occasions or when I want to look great for a short period.
For long-term skin improvement, you're still better off performing facial exercises to help lift and firm the face and neck.  You can see my before and after pictures to see how well face exercise works!😊

Final review - would I use Roloxin again?
Yes! If it wasn't so expensive, I would use Roloxin everyday.
When I review a product, my decision on whether I like is also based on price. If a product is "nice" but super expensive, then i'ts not worth it to me. But, if it works the way I want it to - I'll do anything to get it. 
Like my favorite eye lift/firming serum. I've been buying and using this serum since 2012 and won't ever stop - unless I find something better.
It seems pricey at first, but when I consider the fact that it works and a little goes a long way - so one bottle lasts me about 6 months. It's well worth it! :-)
If I could buy Roloxin at my local Walgreens or Walmart for under $20 - YES, I would use it everyday.
I like the way it makes my skin feel and I could go without any face makeup at all. I would especially like it during hot summer months as it gives the skin a smooth matte finish without that uncomfortable drying feeling.
I hope this Roloxin review helped you decided whether or not to give this "miracle" mask a try.
---
Questions/Comments or Just Wanna Chat?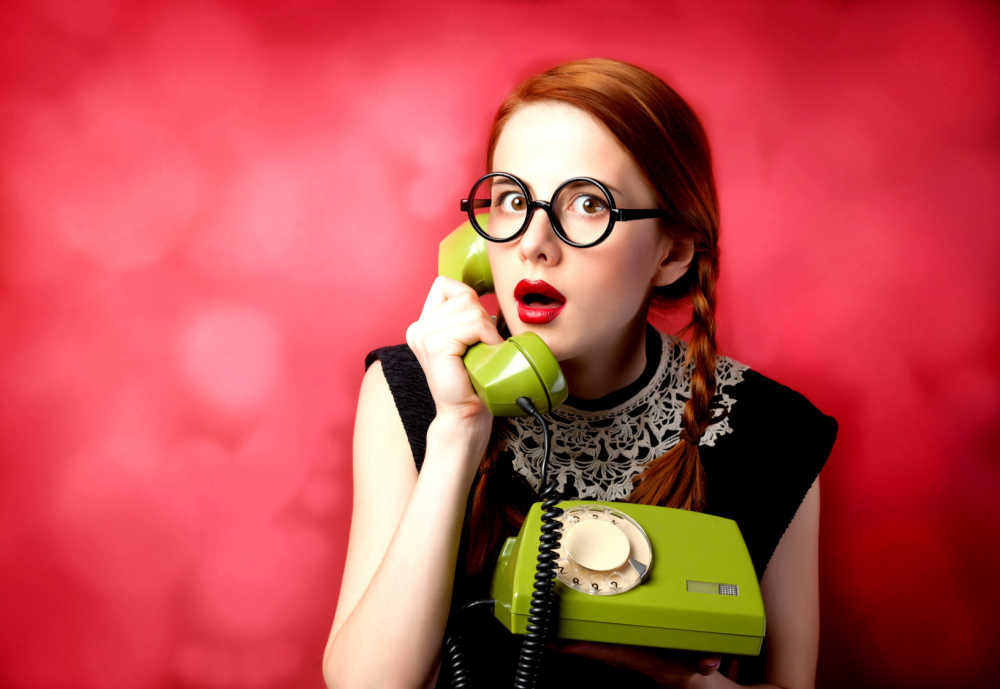 Visit the Anti-Aging Beauty Blog or contact me here.

Check us out at these locations: