Eye Wrinkle Treatment Tips that Work
I've been testing eye wrinkle treatment remedies and products for over 35 years and consider myself a bit of an expert in this area. 
Check out these 3 simple treatment tips that worked for me along with my before and after pictures.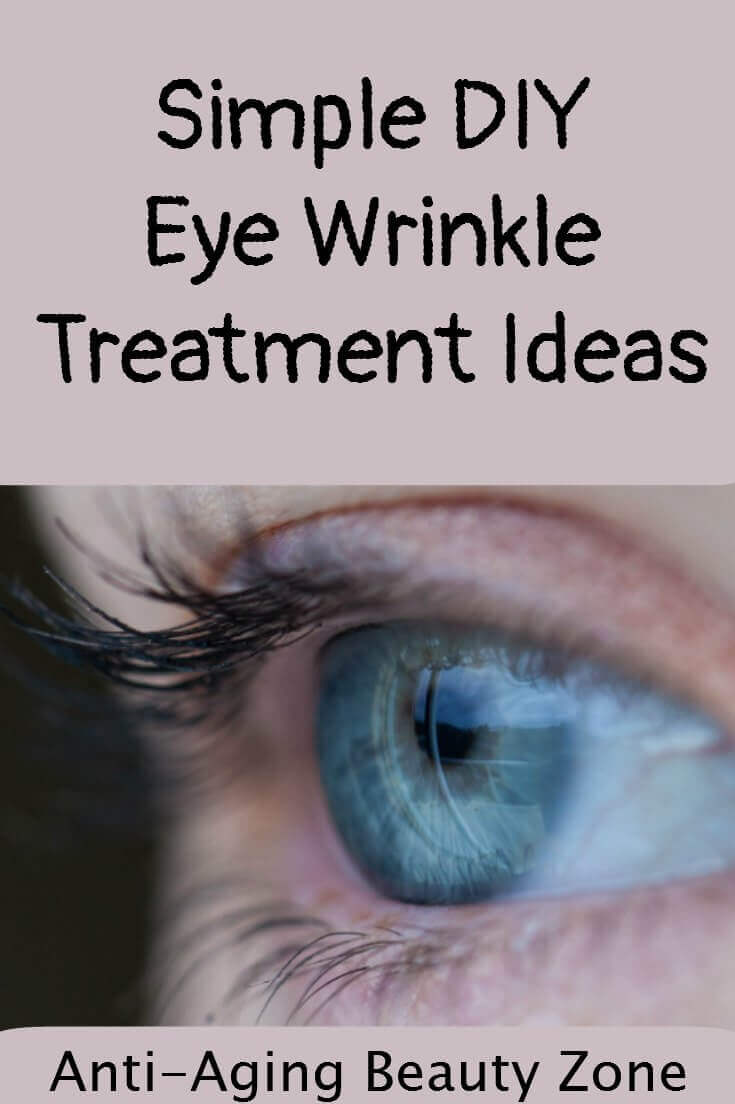 The skin around and under my eyes was not aging well. By age 25, I knew I was going to need a good under eye treatment. And by the time I was 40, I began looking into alternative solutions besides the standard drug-store eye wrinkle creams. Alternative solutions like:

face & eye exercise
massages

eye lifting serums
anti-aging eye creams

So, if your eyes seem to be aging faster than the rest of your face, then consider checking out some of these under eye treatments listed below.
1. Eye Lift Serum for Mature Sensitive Skin
While an eye serum is only a temporary solution for under eye wrinkles, it does make my eye area look smoother and the skin look less crepey. And it gives me the quickest, instant results, no matter where I am - at home or traveling.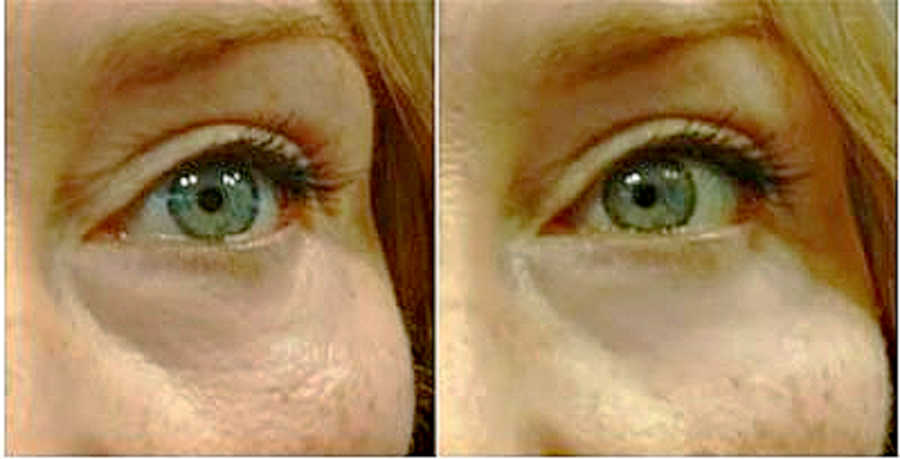 There are plenty of under eye lifting serums that can help temporally "hide" and reduce the look of under eye wrinkles and puffiness (and trust me) I've tried them all!
But I hated how they felt once they dried. 
Yes, they smoothed out the skin, but they felt awful and looked worse once I moved my face or smiled. Most serums would flake, felt tight, dry, or had a glue-like consistency.
But years ago I found an eye lift serum called EES, and it has been my favorite treatment to help reduce the look of wrinkles and fine lines. I
t's only temporary, but it does last for about 10-12 hours, even after working-out.
The best part is this serum was designed for dry, sensitive, mature skin, so it won't dry, irritate, or flake like the others do. 😊

What about puffy eyes?
Yes, this serum helped hide my puffy eyes too.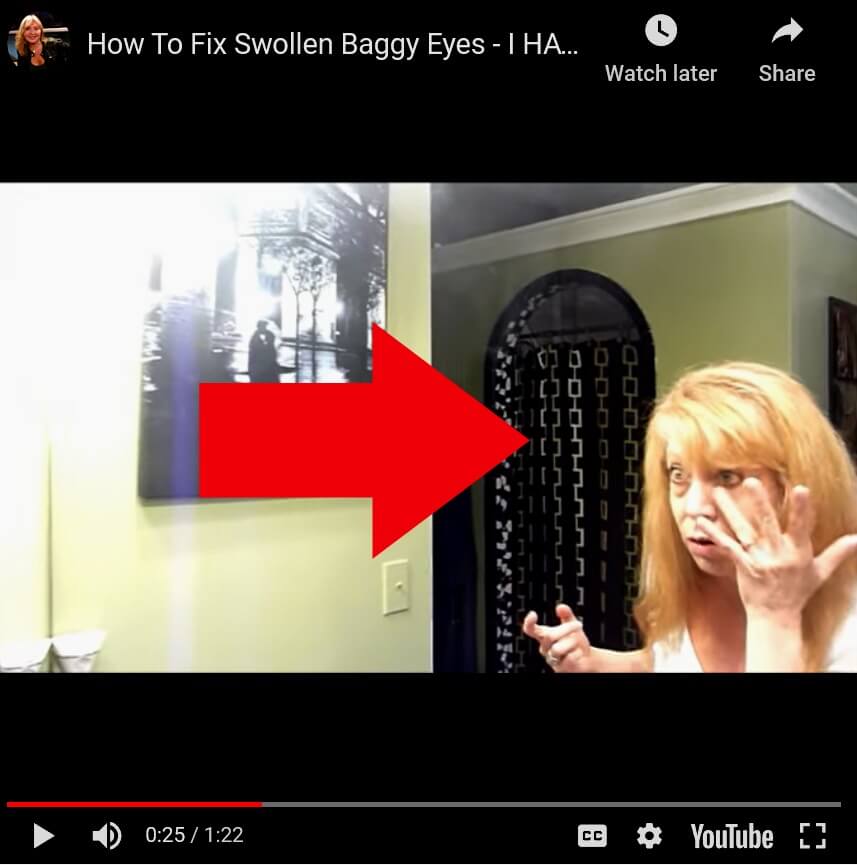 Want to see how well this serum works for puffy eyes? Check out this video of my friend has very puffy eyes and agreed to let me video her before and after transformation.

2. Eye Exercises
While this treatment takes time to see results (months), it did help smooth some of the fine lines and tiny wrinkles under my eyes.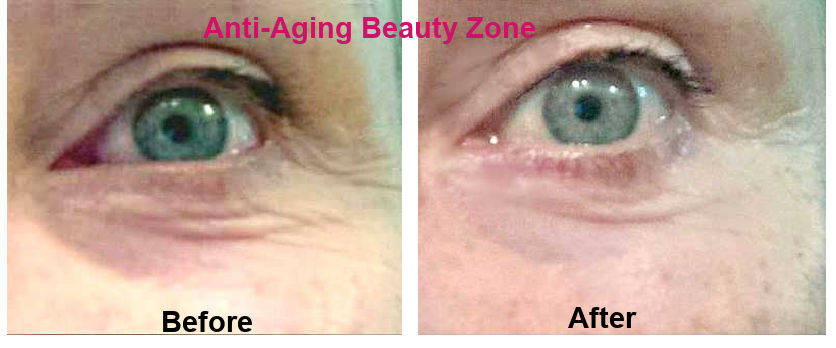 Eye wrinkle treatment to reduce under eye lines
Everyone has "aging trouble areas" on their face. For me it was under-eye wrinkles and crow's feet. So after a few months of doing facial exercises I realized I needed more help in this area.
For my under eye wrinkle issues I contacted, Carolyn (the owner/creator of CFF exercise program) who gave me a special a bonus exercise (see below) to be used in conjunction with her regular facial exercise program.
As you can see in the photo above (10-12 weeks into the program) the change is very subtle, but I do see an improvement. I expect it to continue improving as long as I keep doing the exercises.

Eye wrinkle treatment sample exercise
Here is what the bonus exercise looks like. The key things to remember when you do this exercise is:
First, apply a good moisturizer to the whole under eye area.
Second, m

ake sure the under eye muscle is contracted by squinting with your lower eyes only.

Third

, in addition to squinting with your lower eyelids (which contracts the muscle), make sure your skin is taut by opening your mouth as wide as you can but keep your lips closed - as shown in the picture below.
NOTE: You want the under eye muscle and skin as tight as possible while your fingers lightly "slide" across the skin from one side to the other.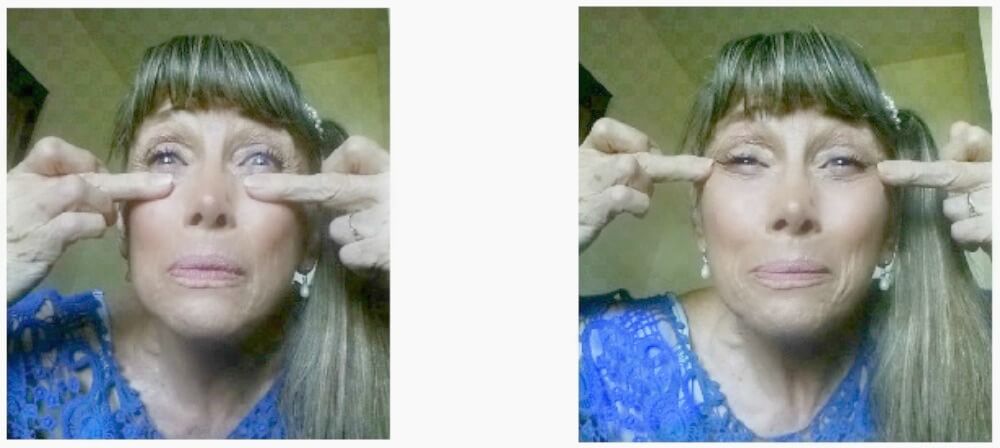 Eye Wrinkle Bonus Exercise courtesy of Carolyn's Facial Fitness, LLC Copyrighted 2015
STEP #1
Rub moisturizer or face oil onto the skin all around the eyes.
Contract the bottom eyelids (like your squinting using lower lids only).
Place your middle fingers in the inner corners of your eyes.

Now lightly slide your fingers to the outer corners of your eyes, keeping your bottom eyelid in contraction the whole time.
Repeat this full slide across the eyes for a total of 10 slides.
STEP 2#
Now

r

everse the direction by placing your fingertips on the outer corner of the eyes.

 
And slide inward towards the inner corners of the eyes. 
Repeat this full slide around the eyes for a total of 10 slides. You have now made a total of 20 slides. 10 in one direction and 10 in the opposite direction.
Step #3
Repeat the same process across the upper eyelids too. Make sure to add more moisturizer or oil first.
As suggested in the directions, I performed this every morning and night after washing my face. Once I started to see improvements, I reduced the frequency to only 3-4 times a week in the morning.

Worried that this technique will stretch the skin? Well, according to Dr. Frederick M. Rossiter, professor of anatomy and physiology, if done properly this technique can help strengthen the muscle and smooth out the skin.
Dr. Rossiter explains that the muscles of the face go through the skin (this is what gives us the ability to make facial expressions). So, if we contract the facial muscles and slide our finger or hands across taut skin, we not only firm-up underlying muscles but the skin too. Click here to read - How to Achieve the Build you Want Using the Right Touch.

Update: Eye wrinkle treatment result 16 months later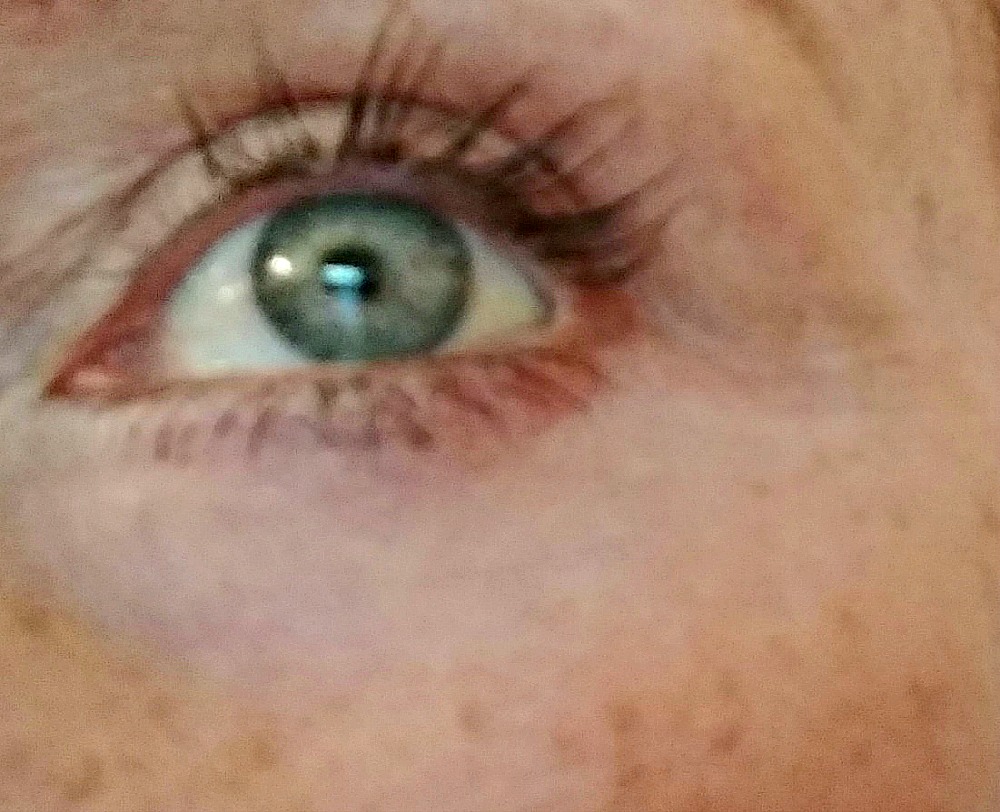 This picture was taken about 16 months later. When I don't smile I can hardly see any lines under the eyes.
Keep in mind that this eye wrinkle treatment bonus exercise is to be done in conjunction with a regular weekly facial workout. This is important not only for good results and a more lifted face and neck, but to make sure everything stays in balance.

3. Eye Moisturizers
A regular eye moisturizer won't make an instant drastic difference in terms of sagging skin, puffiness, or deep wrinkles. The best a simple eye moisturizer can do is hydrate the skin, which can help it look less wrinkled.
But, for anti-aging purposes, I stick with topical eye treatments that are not too creamy (may cause puffy eyes), contain anti-aging/anti-oxidants to protect from further aging, and help increase cell turnover and encourage healthy skin regeneration.
Some powerful anti-aging ingredients include:

retinols

copper peptides
vitamin C serums
Retinols - I like retinols because they're not as harsh as prescription Retin-A, but help encourage exfoliation and skin cell turnover. You can read more about them here Retinol Cream Reviews.
Copper Peptides - Research shows that copper peptides can help repair damaged aged skin. 1, 2  You can read more about the benefits of copper peptides for skin here...My current favorite product is the Copper Peptide Eye Therapy by Nu Glow.
Vitamin C serums - Finally, my other favorite eye treatment cream/serum is vitamin C Serum. It's not greasy, won't puff up my eyes. 
NOTE: While most of the eye wrinkle treatment creams I mentioned here are not specifically designed as "eye creams" (except for the copper peptide eye therapy and the instant eye lifting serum) I find these work best for me. You may have to test to make sure these are suitable for your under eye skin. 
Final thought...
No matter what eye wrinkle treatment I use, I ALWAYS apply my instant eye lifting serum on top of my eye products and I get fabulous results every time. Even though it's just an instant temporary fix - it seems to make the whole under eye area look tighter and smoother. It even helps blur those dreaded crow's feet which are so hard to get rid of naturally, without Botox.

Have you tried under eye wrinkle treatments or serums? I've tried a ton of eye lifting serums. Here is a review of some popular serums for under eye puffiness.

Which ones did you try and how well did they work for you? Tell us about it.
Eye Wrinkle Treatment
Questions/Comments or Just Wanna Chat?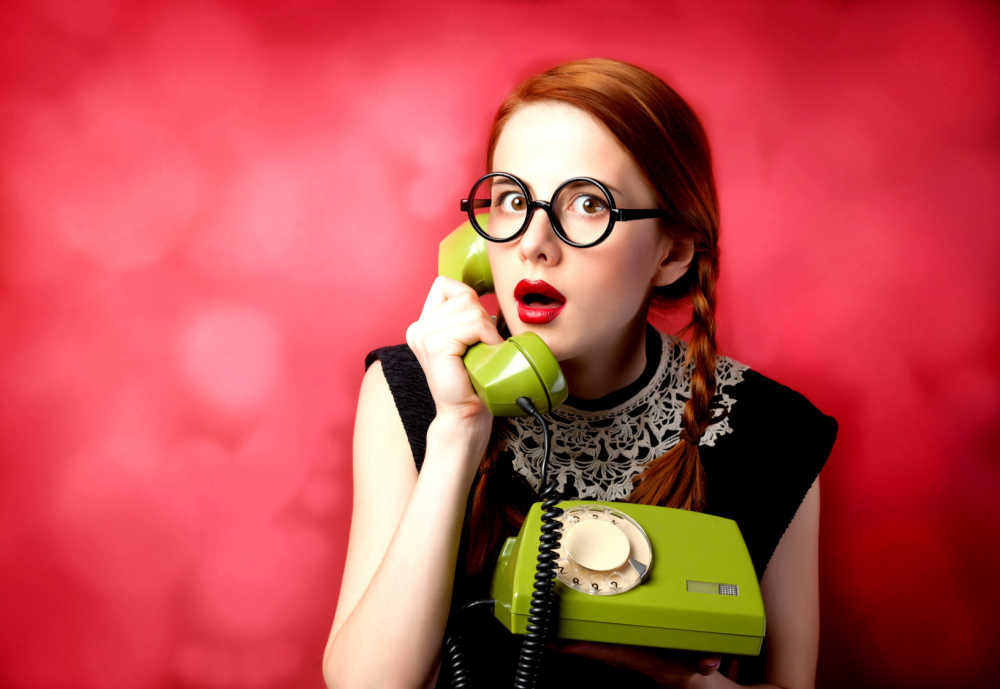 Visit the Anti-Aging Beauty Blog or contact me here.

Check us out at these locations:

ABZ Newsletter
Sign Up For Special Offers, Updated Pictures, New Product Information, Anti-Aging News, Tips and More...