Crepey Skin Under Eyes: 7 Home Remedies to Thicken Under Eye Skin
The best remedy for crepey skin under the eyes? Try to strengthen and nourish the skin around the eye area. 
But how do you firm under eye skin without spending a lot of money on expensive in-office procedures like laser resurfacing or chemical peels?
We know these procedures help create healthy under-eye skin, increase collagen production and improve the look of crepey skin under the eyes.
But, what if you can't afford these treatments?
In this article, we'll show you budget-friendly and affordable home remedies to help thicken under eye skin and reduce the appearance of crepey eyelids.
Crepey Skin Under Eyes: What Is It?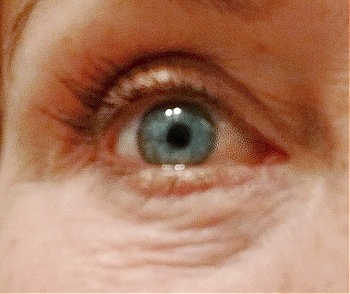 If you have crepey skin under the eyes, you probably already know what it looks like.
It's that loose or saggy skin under the eyes that has tiny, crossed-hatched lines starting under your lower eyelid, creeping toward the outer eye and may go all the way down to the sides of your cheeks.
Sometimes the crepey lines are so deep they're visible even when you're not smiling. Most people with crepey skin also have issues under eye puffiness too.
This is a natural part of aging and collagen loss. But, there are non-surgical treatments you can do at home to help strengthen the skin and get a smoother appearance.

My under eye area started showing signs of aging when I was in my late 20s. I knew I had to do something now before it got worse.
I'll share what I've tried to help reduce the crepey skin under my eyes.
Do these under eye remedies work?
I'm living proof that you can improve the firmness and texture of your skin. Especially, in sensitive areas like the under eye area.
In the before and after eye picture below, I had more crepey, loose under eye skin in my 40s than I do now in my 60s!!

Before and after pictures of crepey skin under my eyes.
Crepey Under Eye Skin: 7 Remedies
1. Eye Massage 
What is the best home remedy for crepey under eye skin? An eye circle massage.
This is one of the cheapest home remedies for crepey eyelids and eye wrinkles because the eye circle massage video (see below) is free!
If you want to tighten the skin under your eyes naturally, studies show that the combo of massaging the skin with topical anti-aging products amplified the beneficial effects of the product.
Researchers stated, "skin massaging provides an efficient anti-aging strategy." (1)
A light massage on a regular basis can help support the delicate skin around the eyes, increase blood circulation, and support collagen production.
Using your ring finger, lightly massage the whole surface of your skin from the inner corner of the eyes all the way around to the top eyelids.
So you're making eye circles in light, quick motions.
Make sure to apply a little cream before doing this.
Over time, this increases healthy blood flow, reduces the appearance of dark circles, improves skin tone of crepey eyelids, (including upper eyelids), and helps reduce puffy eyes.
You can find more effective, free exercises here.
If you have issues with your hands like arthritis, the Kansa Wand is an easy to hold and use ayurvedic copper massaging wand can be used all over the face too. See how it works here.
2. Retinol Products
Retinol helps increase cell turn over and increase collagen. Collagen adds strength and thickness to crepey skin and works well for the under eye area. 

These days, over-the-counter retinol products are inexpensive and pretty effective. But, unlike their prescription cousin Retin-A, they are weaker, which means they work slower.
Don't be surprised if it takes several months of daily use before you see results. The important thing is to be consistent.
Money saving tip: To save money, instead of buy "another" cream, consider using a Retinol Serum that you just mix into your favorite moisturizer.  It's much cheaper and works as well as a stand-alone retinol cream. 
3. Moisturize - Topical Creams with Vitamin B3 or Fatty acids
Hydration is your friend when it comes to crepey skin. And keeping the under eye skin hydrated is a challenge for most adults, especially for women who are in menopause or postmenopausal.
Rich creams that contain vitamin B3 and/or essential fatty acids work wonders to help skin hold moisture.
B3 (niacinamide) is especially effective for firming and thickening under eye skin in two ways:
increase hydration levels in the skin
increase collagen production
These two are essential to help strengthen delicate under eye skin.
A great inexpensive choice is this natural ayurvedic inexpensive Eye Butter with ayurvedic mega-herb Manjishtha, vitamin B3 and hyaluronic acid. I love this eye cream to tighten and bright the whole eye area.
Money saving tip: If you can't afford another eye cream, consider using an anti-aging product formulated for eyes, face and delicate neck area, like the Omega-Fatty-Acid-Ceramide+ Recovery Moisturizer.
This omega-fatty acid ceramide product is specifically designed for troubled or aging skin to help recover moisture loss.
It's a nighttime recovery cream that's rich in Omega-3 lipids, peptides, and vitamin A.
But, you can use it anytime your skin needs a boost or to help recovery (if you decided to take the plunge) and invest in laser treatments or prescription Retin-A.
4. Rejuvenate with Vitamin C Eye Creams
Fresh potent ascorbic acid crystals is no doubt the best anti-aging protection for your skin.
In the past, I would pour the entire bottle of vitamin C powder directly into the vitamin enriched cocktail serum that came with it.
However, I found a more effective way to ensure my vitamin C was as fresh as possible. See update below...
UPDATE: This is a game changer!!!!
To get the freshest vitamin C directly into my skin, I stopped mixing the whole vile of vitamin C into my moisturizing serum bottle.
WHY?
Because when ascorbic acid powder (vitamin C) is exposed to liquid, oil, heat, light or air for prolong time causes it to break down and oxidize. Once it's oxidized, it's useless! 

To extend the shelf life of your vitamin C, store it in the fridge or a cool, dry and dark place rather than in the bathroom medicine cabinet.
Then, when you're ready to use it, just sprinkle a small amount of vitamin C into the palm of your hand and add a drop of serum or moisturizer, mix it and apply directly to the face, neck, and chest.
Apply and left over on the tops of the hands too!
So you get the freshest, potent vitamin C possible!
Only fresh vitamin C (L-Ascorbic Acid) will truly help improve skin tone and texture. Studies show that fresh vitamin C is the best at rejuvenating and building collagen to help firm the skin. (2)

I use CFF vitamin C crystals, but you can use your own as long as it's fresh L-ascorbic acid. You can see my before and after pictures and read more here.
5. Exfoliate
This sounds a bit controversial, but many health professionals agree that lightly exfoliating the skin around the eye is safe and important for healthy skin and to reduce the appearance of fine lines.
Dry dead skin cells settle into those tiny under eye lines and make them look more noticeable. 
Also, lightly exfoliating helps skin care products absorb better. Here are two ways to exfoliate under eye skin:
Then apply your favorite moisturizer while the skin is still damp. Do this once or twice a month. 
Note: If you have sensitive skin, test a small area first. Also, if you're using any prescription creams around the eye area, check with your dermatologist first. 
6. Temporary Firming Serum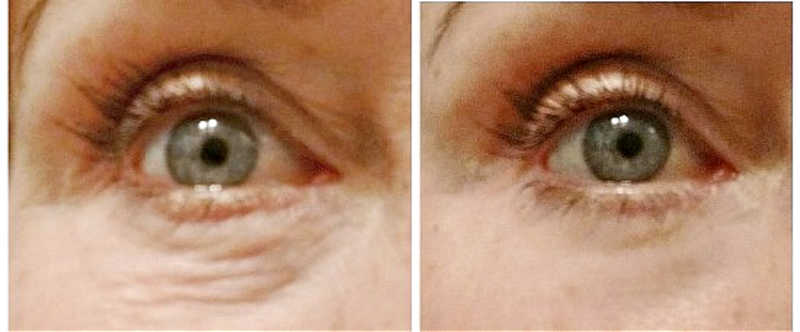 Before and After - Serum to Hide Crepey Skin Under Eyes
While this is just a temporary fix, there are plenty of under eye firming serums that work for a few hours to "hide" the crepey skin under the eyes, as well as reduce the look of under eye puffiness.

I use these serums when I'm tired and my eyes look puffy or extremely wrinkled. And, I always use them for special occasions to look my best.
They really work well to smooth out the under eye skin, but some of these serums can be a bit drying for mature skin, so it's important to find one that works best for you.
Note: You can read more and watch this video to see how well this serum works to firm crepey skin under eyes and reduce the look of puffiness.
Also, see how this serum compares to popular serums like Peter Thomas Roth, Plexaderm, Preparation-H and others.

7. Hydrate - With Hyaluronic Acid
Hyaluronic acid alone won't do much to keep those crepey lines away from your eyes, but it can help seal in your moisturizer - if used correctly!
If you've ever tried hyaluronic acid before, you might have noticed it didn't do much for dry skin. 
Well, I found a tip that really works!
Apply your hyaluronic acid UNDER your moisturizer! You'd be surprised how well it works to seal in the moisture and keep under eye skin looking smooth and firm.
Prevention: Crepey Skin Under Eyes
I know this sounds cliché, but lifestyle changes can have a powerful effect on skin health, especially as we get older.
These lifestyle prevention tips are very important and can make a difference in your under eye skin health.
tighten under eye skin with exercise listed above
moisturize with eye butter or fatty acids
try to get enough sleep
drink enough water to keep skin hydrated
eat a healthy anti-oxidant rich diet including fruits, veggies, garlic, and onions
use sunscreen to protect against sun damage
use anti-aging skin care moisturizers to support healthy aging skin
always apply sunscreen to under eye skin
Home Remedies That Don't Work
I tried some home remedies found on the internet, like applying egg whites, green tea bags, vitamin E oil, and cucumber slices. Forget about them. They don't work to reduce crepey skin under eyes.

Products to Thicken Skin Under Eyes
Here is a list of the products mentioned in this article. We know home remedies to get rid of crepey skin under the eyes can never replace the results of professional treatments.
But, you can support healthy skin with regular massages, keeping the skin hydrated and using anti-aging, skin-rejuvenating proven products like Retinol and vitamin C. 
Crepey Skin Under Eyes - FAQ
Q: My eye skin is so dry and nothing works! What is the best eye cream for Crepey under eyes?
A: I would try the Sandalwood Butter with organic ghee. It's a great nighttime hydrator, super rich. If your skin is extremely dry, I would use it morning and night. You won't be sorry with this one!!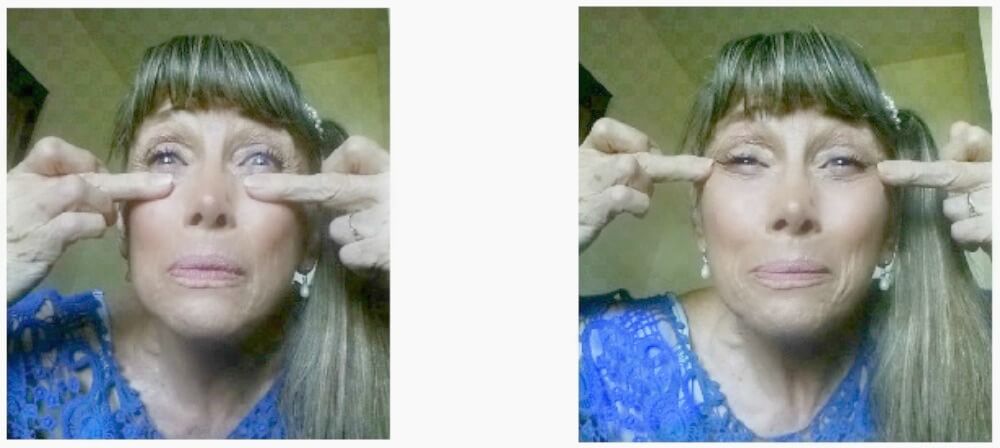 Q: How can I tighten the skin under my eyes naturally?
A: The most natural way to tighten and firm under eye area and reduce puffiness and dark circles is through eye massage, see the video above.
Q: Can Crepey skin be reversed?
A: To be realistic, you expect very dramatic results with home remedies. Professional in-office procedures like laser or radiofrequency (RF) treatments, chemical peels, dermal fillers, and maybe even baby-Botox which is injected superficially to help soften lines will bring about the most dramatic results.
But, your skin will continue to age, and you'll have to continue using these treatments in order to keep crepey under eye skin at bay - which can get expensive.
That's why finding natural remedies that can help keep eye skin healthy is important and much less expensive. And, if you do get professional treatment, home remedies can help your results last longer.
Q: Will coconut oil help crepey skin?
A: Coconut oil is good and it can help hydrate the skin, but it might cause clogged pores or puffy eyes. Test it out and see how it works for you.
Also, you should consider using proven anti-aging products like Retinol and/or vitamin C creams and serums to help reduce wrinkles and lines. Additionally, make sure to do the eye massage, which can help the skin absorb the product.
Q: Why is the skin under my eyes crepey?
A: The process and reasons for skin aging is complicated, but bottom line, pure and simple, is the loss of collagen and elastin mostly due to aging. Poor lifestyle habits and diet can make this happen earlier in life. Also, for women, the loss of hormones during menopause also speeds this process along.
Q: Is Vaseline good for crepey skin under eyes?
A: Vaseline can help keep skin hydrated and maybe look better for a while. But, it doesn't contain any anti-aging properties to feed your skin or stimulate collagen and elastin production like Retinols and skin massage.
Plus, it might be too heavy to use around the eye area. You risk the chance of puffy eyes or, worse, milia - which are tiny white cysts that develop under the skin.
If you need something super hydrating for very dry under-eye skin, you're better off using this rich emollient Eye Butter with organic ghee, and essential oils. 
---
Questions/Comments or Just Wanna Chat?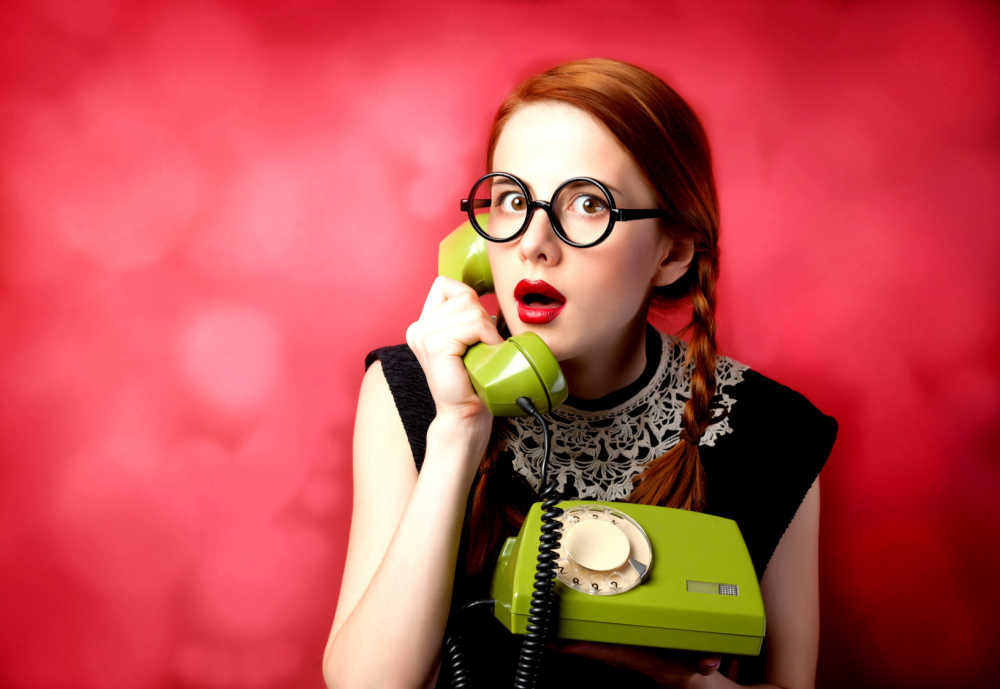 Visit the Anti-Aging Beauty Blog or contact me here.

Check us out at these locations: