Do Face Tightening Exercises Work?
There is no doubt in my mind that face tightening exercises work. Take a look at the stunning before and after picture below!
This woman (Carolyn owner and creator of Carolyn's Facial Fitness (CFF)) looks younger in her late 60s than she did in her early 50s!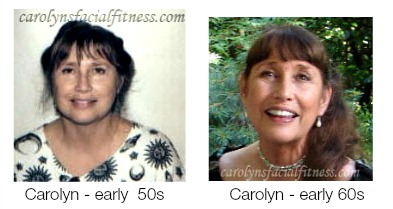 Her results are like a non-surgical facelift. Wouldn't you agree? If you've ever wondered if face exercises are worth your time and trouble - let me share some facts and results with you.
It all started with my mom. She sparked my interest in facial exercises when she bought me an micro-electronic facial exercise machine that stimulated underlying facial muscles to help firm and lift the face.

Do micro-electronic face exercise machines work?
I really didn't see a difference. Plus, it stung and hurt if I didn't constantly apply a special gel to keep my skin moist.
It's no surprise this face exercise machine soon found a home in the back of my closet!
But, I was intrigued by the idea of exercising the face to lift and firm it. So sometime in my early 40s I started looking into the benefits of face tightening exercises...wondering if they really worked. 
Over the next several years, I bought and tried many different types of face exercise programs.

I saw results with face tightening exercises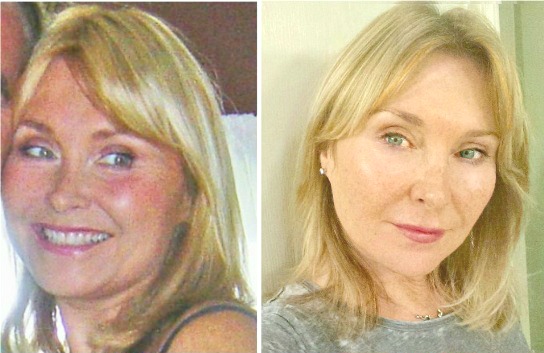 Before and After. Eight Year Difference Between The Two Pictures.
Note: These are not "before and after" pictures because I've been performing various facial exercises (off and on) since around the late 1990s. But I think they show that face exercising can help slow "age related" changes of the face and neck.
Personally, I feel that not only has there been little change over the last 8 years, but some areas have improved. Especially the following:
chin - more defined
jawline - more defined
under chin area - little less droop
This is a good sign!
Because age related facial changes happen very quickly once we're over 50, especially, droopy eyelids, flatten cheek bones, hollows under the eyes, disappearing jowl line, double chin and underslung jaw. 

Hardest are to firm with face exercises
Hardest area to firm? Eyes, jowls, and neck. While they are the hardest to fix once things started to head south, it's not impossible to improve those areas.  The best thing you can do is start early and don't wait until you see signs of aging - like I did!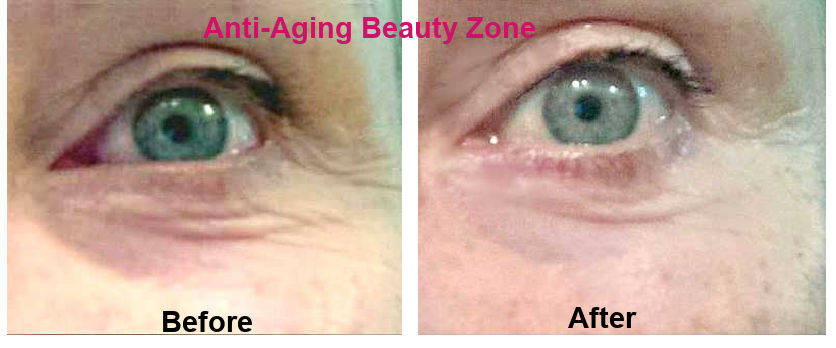 While not perfect, you can see an improvement in my under eye wrinkles after a few months of face tightening exercises.
That's why it's important to start at soon as possible before certain stubborn wrinkles set in. Because even after facial muscles firm up, the skin often takes longer to catch up. This is where facial massaging comes in.
So, in addition to facial exercises, I'm also doing the suggested massages - especially the Neck Brush to address stubborn neck lines.
To be honest, I didn't realize how essential facial massages are for successful results. Read: Why these simple Face Exercise Tips make a huge difference.
And, in the meantime for those tiny lines under the eyes, I use the Easy Eye Solution Instant Eye Tuck. It helps hide them and lift the lower lids a bit. 

Face lift the non-surgical way
I think you can gain tremendous benefits from facial exercises as long as you select a program that actually builds (not just tones) muscle, massages the skin, and addresses facial bone loss issues.
One reason our face ages with time is due facial bone loss. When our facial bones shrink and thin, the skin and muscle will tend to sag. 
You can read more anti-aging benefits of facial bone remodeling and see what your facial bones look like as you age here at this link.

Afraid to try face tightening exercises?
Facial exercising may be somewhat controversial. Some people believe they work and others are afraid to try them.
Personally, I believe it's a matter of choosing an exercise program that's designed correctly so you don't wind up overbuilding certain areas of the face.
And, of course it's important to choose a program that you'll enjoy doing on a consistent basis. Shop around on-line and preview the many different face exercise programs available.
Many sites will offer a preview or sample exercises so you can see if this is something you feel comfortable doing. You can learn more about the program I chose here at this link.
Additional Reading:
- Get sample cheek exercises here
- Get sample neck exercises here

---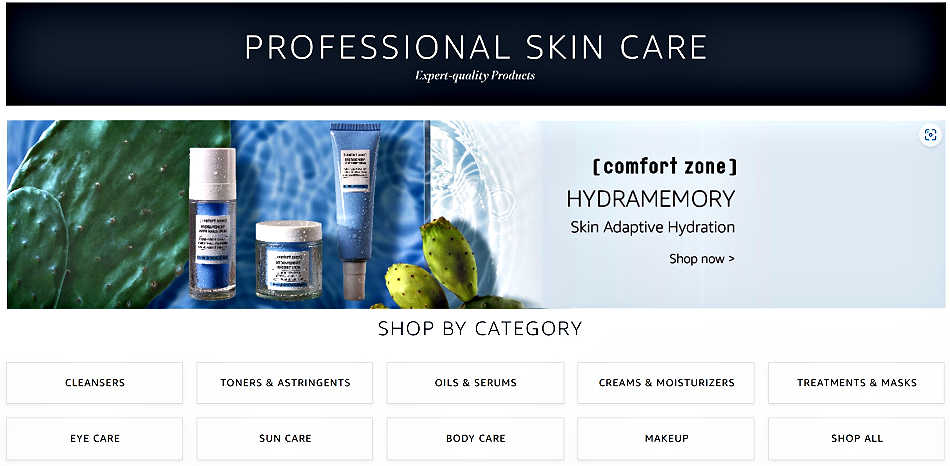 ---
Questions/Comments or Just Wanna Chat?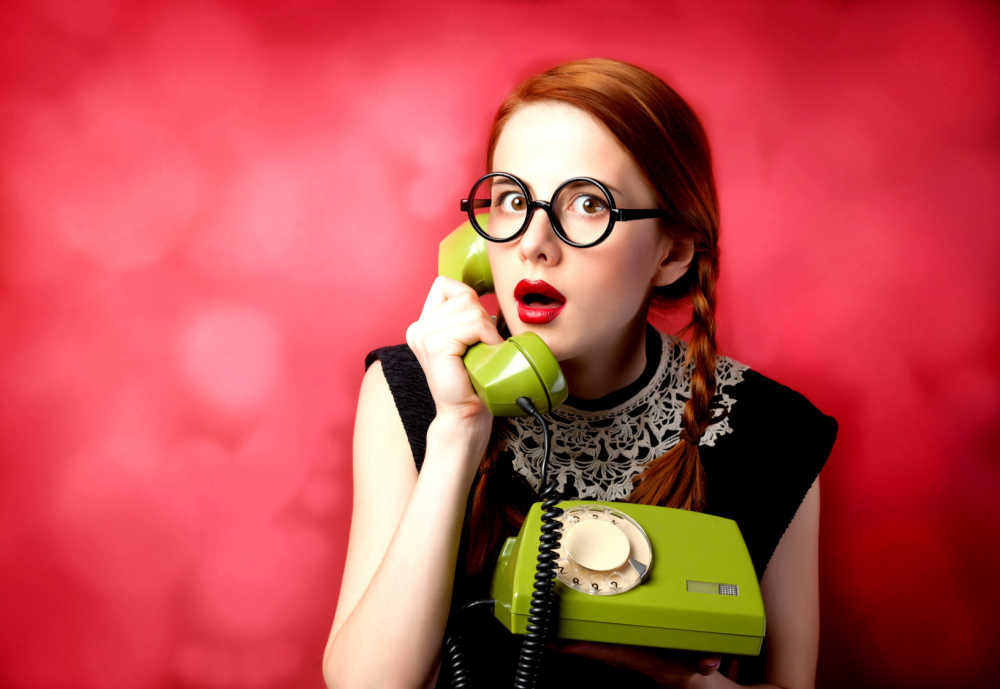 Visit the Anti-Aging Beauty Blog or contact me here.

Check us out at these locations: