Simple Beauty Tips for the Face and Neck


While this entire website is about anti-aging beauty tips for the face and neck, the ones listed here are my personal favorites.
You can find a ton of beauty tips online, but how many really address the needs of women over 40? 
So, I put together a list of my favorites - the quickest, cheapest, and most effective ones I've found over the years. 
Plus, a few of them offer instant results......who wouldn't like that?
Give a few of these beauty tips a test drive - you might be surprised with your results!
Beauty Tip 1: Hide Wrinkles Under The Eyes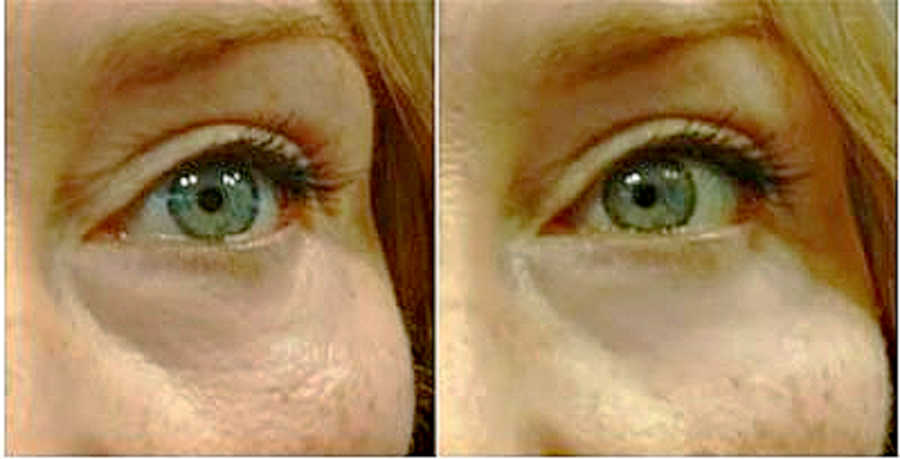 This is one beauty tip women over 40 (or under) can appreciate! You can temporarily firm and smooth the skin under the eyes in just a few minutes.
Who doesn't love instant gratification?
Want to see how it works? Visit Hide Wrinkles Under The Eyes to see a close-up before and after picture.
Beauty Tip 2: Sticky Honey Mask
One of the most inexpensive beauty tips for face, neck and chest is a simple homemade honey mask.
And, it doesn't get any easier than this one - because you only need one ingredient……Honey.
Honey is cheap and very effective for plumping up parched skin and works well for women and men. The only downside is it's a bit sticky/messy.
Honey is a natural humectant - which means it helps pull moisture out of the air and into the skin. Plus, as a side benefit, honey is an anti-bacterial and anti-oxidant - which is fabulous for aging skin.
How:
Simply pour few tablespoons of honey into a bowl. Then wrap a towel around your shoulders and massage the honey all over your face and neck.
Now, just Sit back and relax for 20 minutes, then rinse off.
Bonus Tip: Apply this mask prior to taking a shower. It's easier to rinse it off in the shower.
B
eauty 

Tip 3: Face Scrubs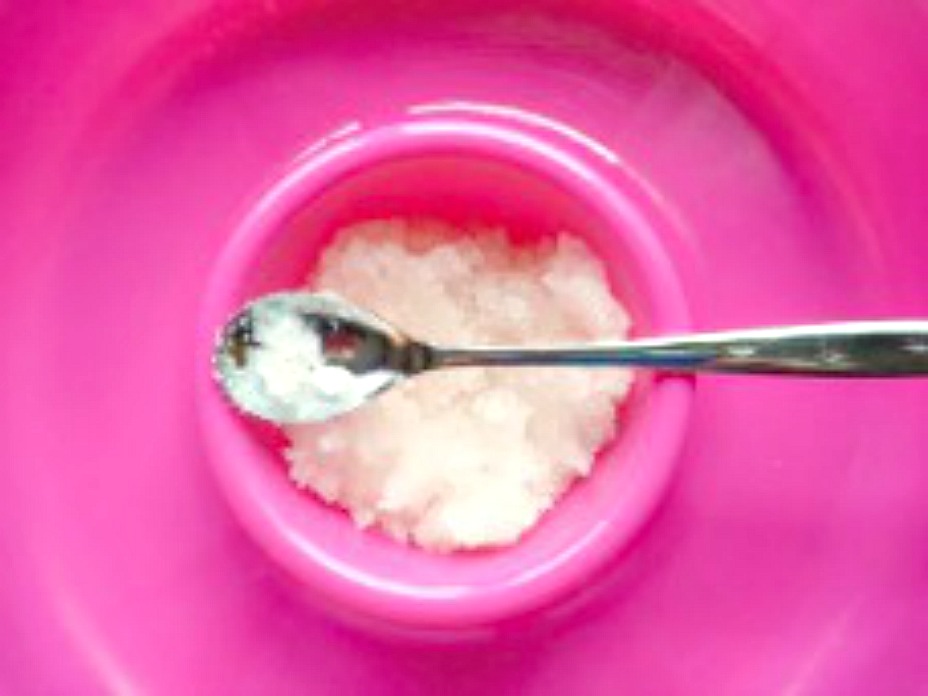 OMG! Love face scrubs!
I started scrubbing (i.e. exfoliating) my face when I was 15 years old. Back then, there weren't many choices, so I settled for a drugstore product called a Buff Puff - a mild abrasive scrubbing pad.
But, these days I like to make my own scrubs.
How:
Start by mixing sugar or baking soda with water. If you have dry skin try mixing it with face loving oils like grape seed oil, coconut oil, or even olive oil.
Mix into a paste like consistency and massage it gently all over your face - don't forget your neck. 
Again, doing this before (or even in the shower) is easier and less messy.
Women and men will really see results from this beauty tip! The older my skin gets, the more impressed I am with the results of a good exfoliating facial.
Bonus Tip: If you're using sugar (not baking soda) - leave the mixture on your face and neck for 5-15 minutes (like a  mask).
Sugar naturally contains alpha hydroxy acids which helps breakup the "glue bond" that holds dead skin cells together. This will give you a beautifully smooth complexion in just minutes!
Need Something stronger? Consider the face smoothing Skin Eraser.

Beauty Tip 4: Self Tanners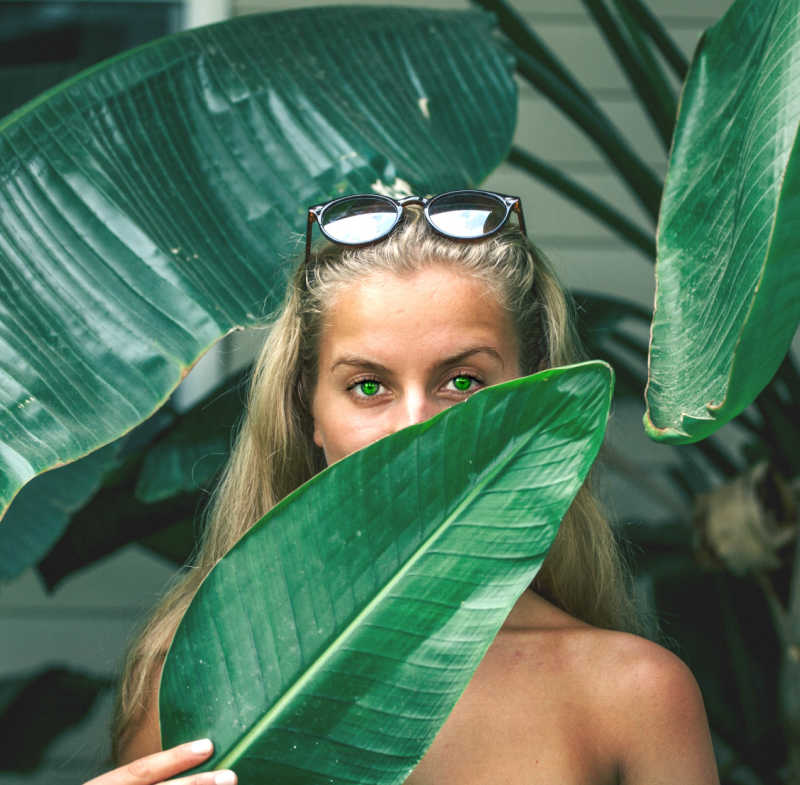 If you've noticed a change in skin tone - more blotchy, spotted or more brown spots……..Self tanning is a great option to smooth out your complexion.
Adding a sunless boost of natural color helps hide imperfections like freckles, age spots, and broken blood vessels……..............All without dangerous sun rays.
How:
The best time to apply a self-tanning cream or gel is right after you've exfoliated your face.  BUT! With this self-tanner, you can apply it anytime! I love it!
Now prepping or worry about drying or staining your clothes. I smooth this creamy anti-aging, vitamin filled cream on my face and body about 2 times a week and it hydrates while helps give my face and body a gorgeous year round glow.
Many women have a hard time finding a sunless tanner that works well with their skin tone. Which is such a shame because this is one of the best (and cheapest) beauty tips for the face, neck, and body that offers almost instant results.
Why a Quality Self Tanner Matters: Many women have told me that drugstore brand self-tanning creams and sprays don't offer the best color result. And I know what they mean. I've been using self tanners for over 30 years and some made my face look dark, but dirty and dull.
If you're very pale consider using a lighter toned tanner and consider and have consider spending a little extra and get a good quality tanning cream. 
If you haven't had any luck with self-tanning facial products, consider giving this one a try.  It is a hydrating, anti-aging self tanning cream. 
Bonus Beauty Tip: For a face slimming effect - try smoothing a little extra self tanning cream down the sides of your face and neck and under your chin. This can help slim a full face and/or camouflage a double chin.
Beauty Tip 5: Eye Lift
Using the Easy Eye Solution Instant Eye Tuck serum and the Illuminator cream, I can quickly firm up puffy eye under skin and brighten the whole eye area within 5-10 minutes.
How:
First apply your eye makeup, moisturizers, sunscreen, etc.....Then 
dot a tiny drop (a little goes a long way) of the shimmering Illuminator cream and smooth from the inner corner of the eye all the way to the outer corner and upper cheeks.
after that sets in for a few minutes, take a tiny drop of the Instant Eye Tuck serum and light smooth it across the whole lower eye lid.
As it dries you'll feel a slight tingle and tightening sensation. In a few minutes your under eye area will look tighter, lifted, and brighter. I use the EVERYDAY :-)
Beauty Tip 6: Neck Firmer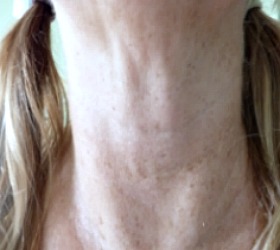 Help smooth neck wrinkles and lines and – over time – help reduce cording…i.e. turkey neck! This tip comes from Carolyn's Facial Fitness workout.
It's easy and quick and if you do it consistently, you can help improve skin tone and texture on the neck.
Here's How:
Apply a moisturizing cream under your chin and all over your neck. NOTE: I use her potent Vitamin C Crystal Serum. Then make a fist with your right hand, (using the flat side of your fingers between your first and second knuckles) slowly "brush" your double chin area.
Start with the right side of your under chin area. Then go across the whole under chin area to your left side then go down your neck and go across your whole neck back to the right side.
Then repeat starting on the other side.
Beauty Tip 7: Fuller Cheeks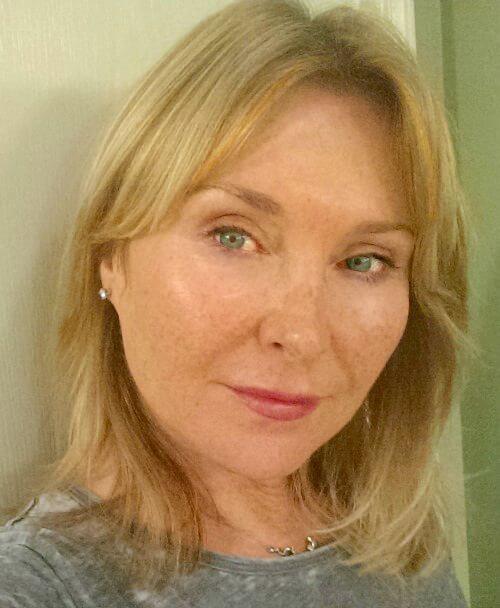 Whether you were born with full, naturally chiseled cheekbones or not these exercises will help make the most of your cheeks and - as a bonus - lift your face and neck.
IMO: Face exercises are one of the least expensive of beauty tips for the face, neck, and decollete. You buy it once and benefit from it for life! 
Got your own beauty tips for the face or neck?
Whether they're beauty tips you read about, made up, or have been passed down from friends.....we'd love to hear about them. 
Home

› Quick Beauty Tips for the Face and Neck
We Need Your Help! Are you currently using an anti-aging system or routine? We'd like to hear about it. Please visit Popular Anti-Aging Systems and tell us what your using.
Check us out at these locations:

ABZ Newsletter
Sign Up For Special Offers, Updated Pictures, New Product Information, Anti-Aging News, Tips and More.....
Additional  Information  You  May  Like: