Face Lift Weights and Homemade Remedy Scrubs
by Jeanne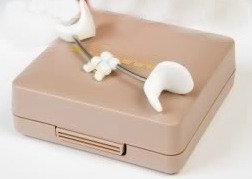 face exercisers
Hi. Was it on your site that I read a recommendation about rubbing some blue spruce oil into the thighs every day? I can't find the page on this visit nor why you recommended this treatment. I'm sure it was to correct some deficiency of aging.


I'd be very grateful if you'd lead me to the reference again.
BTW: my favorite scrub is just plain A&H baking soda. It's the most fine-grained exfoliant I've ever found and my face always feels completely clean, smooth but never tight or dry after.
I see you make a scrub using baking soda. I might try it but haven't found the need for additional ingredients. Your page is inspiring.
I've purchased a few Mommy Makeup products. I've been a die-hard Lancome mascara user for years but her mascara, especially the brush, is actually superior. And the
Mommy Makeup eyeliner is amazing
.
My Lancome pencil was starting to bleed along my lower lashes and even with magnification I couldn't make a straight line.
The Mommy Makeup gel eyeliner goes on easily, neatly, and with her great brush, perfectly without a lot of fuss. What a great find! I use a lot of Osmosis serums for skin care; most contain retinol. I've been generally happy with their products.
Have you tried the Facial Toning Weights? They are awkward to work with but they actually do provide some resistance when "working out" one's facial muscles.
Thank you for this page! Jeanne
------------------------------
Editor's Note:
Hi Jeanne!
Thanks for your email. I'm not familiar with blue spruce oil for thighs or for anti-aging purposes. But, I'll do some research and if I find any information I'll email it to you.
Re: Homemade facial scrubs
- I usually only use baking soda too, sometimes I add some sugar for some extra oomph! Plus, sugar is natural fruit acid and helps unglue dead skin cells which can clog pores and make skin look dull.
For those with dry skin issues, I've recommended adding olive oil to the mix.
Re: Mommy Makeup
- Yes I really like her products too. The eyeliner gel is one of the best eyeliners I've tried. And stays put without fading or running. I just ordered some more of her new products and will post my results on my site sometime next week.
Re: Facial Toning Weights
- I've tried SOOO many gadgets over the last 30 years. My mom bought me an electric pulsing face exercise machine when I was in my 20s! That was my first experience with facial exercise gadgets. She was really into all that stuff. Which is probably why I am now :-)
In addition to electrical and rubber band type exercise devices - I've also tried many of those "hands-on" workouts where you put on gloves and pull and tug at your face.
By far, the most comfortable and successful workout I have experienced is Carolyn's Facial Fitness. You can see from my before and after pictures how well and quickly they work.
Here are some updated before and after sagging neck pictures
But, in addition to just helping to firm and lift underlying muscle, her workouts also help prevent facial bone atrophy which is similar to what happens to our skeletal bones. They lose density and shrink.
Believe it or not, facial bone shrinking also contributes to an "aged face". So, wrinkles are not the only measure for facial aging!!!
It's pretty fascinating. You can read more and see comparisons of a younger and older facial bone structure. It's called
Bone Remodeling
.
As I said earlier, I'll check on the blue spruce oil and let you know if I find anything interesting.
Thanks so much for contacting me!
Best,
Linda