10 Ways to Firm Up Sagging Neck Skin 
How do you get rid of crepey, saggy neck? Check out these natural treatments that worked for me.

Treatment for Sagging Neck Skin
These tips, exercises, skin brushing, massages, and vitamin C treatments for neck wrinkles, sun spots, and sagging skin are pretty effective.
They won't work overnight, but with regular use, it's possible to see noticeable improvements.
Have a look at my before and after pictures below, so you have an idea of what is possible. 
Can Crepey Skin be Reversed?
Yes!
I set out to find simple exercises to help tighten and firm up my turkey neck, along with saggy skin and wrinkles.
I originally started this challenge because many women asked, "why are we unable to exercise the skin on the neck?"

We were told that the skin on the neck is very thin and delicate, so there is not much you can do to improve it, aside from in-office treatments.
But gentle exercises and massages along with good skin care treatment (like vitamin C serums) can help improve the look of saggy skin. 
Just check out my before and after pictures below. 
And make sure to scroll down to see what you can do to firm your sagging neck.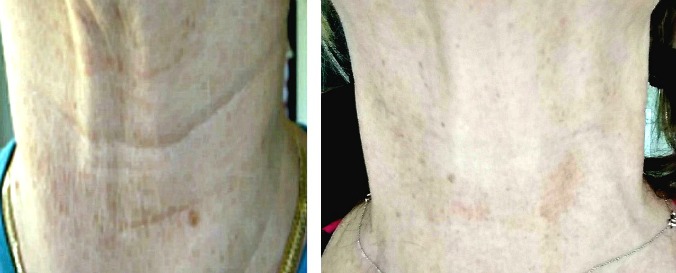 1. Dry Neck Brushing for Wrinkles
Brushing the skin helps encourage blood flow and improve skin tone. Don't brush too hard and apply moisturizer if your skin is sensitive or dry.
2. Neck Exercises to Firm
Few studies have been done on the benefits of exercises for firmer skin.
But, people who do engage in face and neck exercises say they look better, and their skin looks fuller and firmer.
This sagging neck exercise helps firm the muscles under the chin and down the neck. It's called The Gulping Fish.
3. Massage to Improve Saggy Skin
Like dry skin brushing, a neck massage helps encourage blood flow and collagen production.
Neck skin massage can also help smooth out and improve skin tone.
View the video of this neck massage here. Opens to a new page.
Neck massage instructions:
Extend your neck up toward the ceiling, leading with your chin and stretch with your bottom jaw.
Make a loose fist with both your hands. 
Place both hands on the left side of your neck.  
Slide both your hands down the neck to your collar bone.
Go back to the top of your neck and move over to the center and slide your hands down to your collar bone.
Go back to the top-right side of your neck and slide your hands down.
Make 10 slides, moving left to the right and 10 slides right to left for a total of 20 slides. Do this about 3 times a week. 
Note for Beginners: Your jowls and neck muscles will be a bit sore the first few times you do the jowls exercise.
That's a sign it's working! It's best to space out the workout to every other day to let the muscles recover and strengthen.
You should do the Jowl Eliminator 4 times a week for 8 weeks. Then back down to 2-3 times a month. 
4. Kansa Wand for an Ayurvedic Neck Massage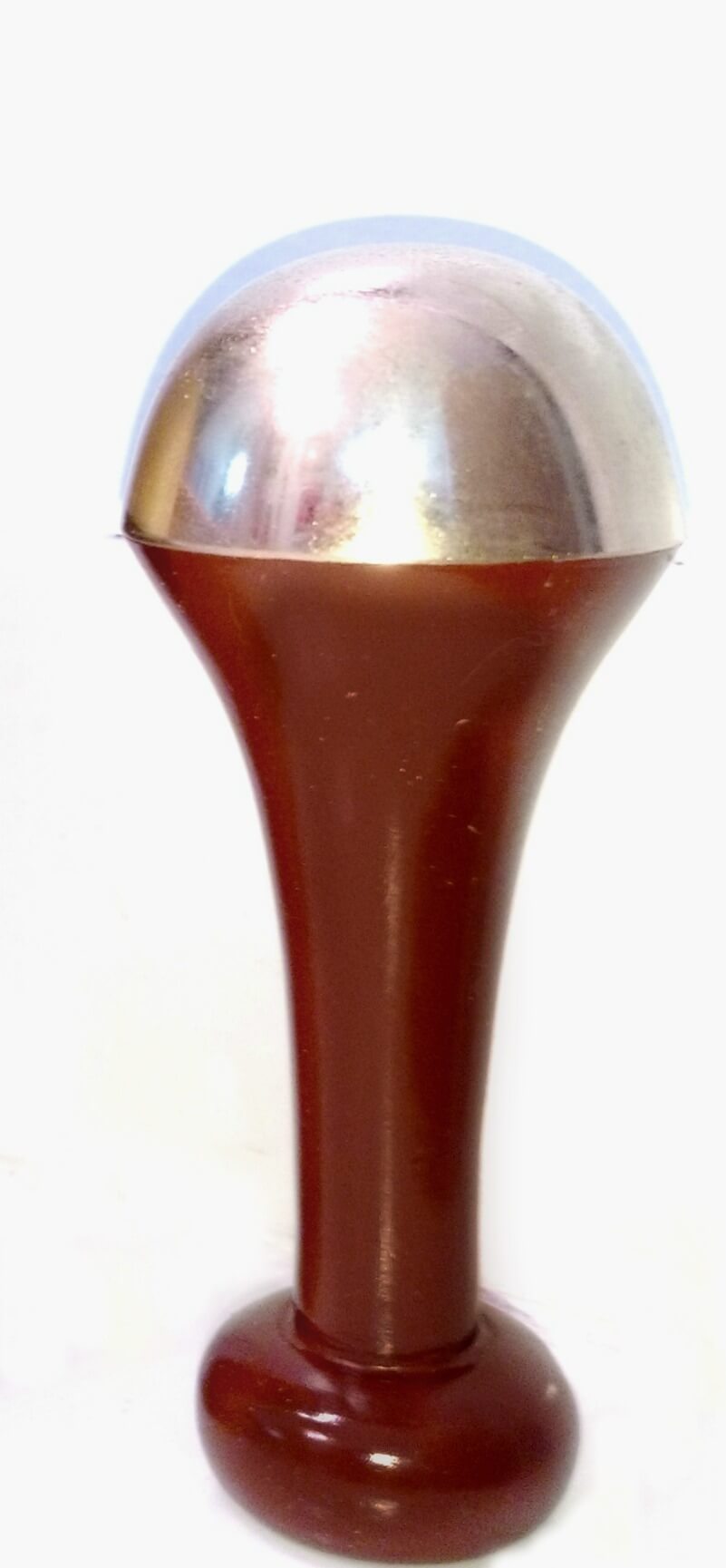 If you have issues with your hands and can't give yourself a good massage, the Kansa wand can be very helpful.
A Kansa massage boosts lymphatic drainage. Relax muscles for a more uplifted appearance.
The combination of bronze and copper head of the wand is alkaline, so it helps balance the skin pH and gives the skin a beautiful glow. 
5. Apply a Healthy Moisturizer
Dry, dehydrated skin can look saggy. Make sure to apply a rich moisturizer that also feeds and nourishes the skin and is loaded with antioxidants.
Look for an organic cream that contains vitamins and full spectrum CBD oil.
I use CBD Antioxidant Creme by CFF
6. Vitamin C Serum for Skin Aging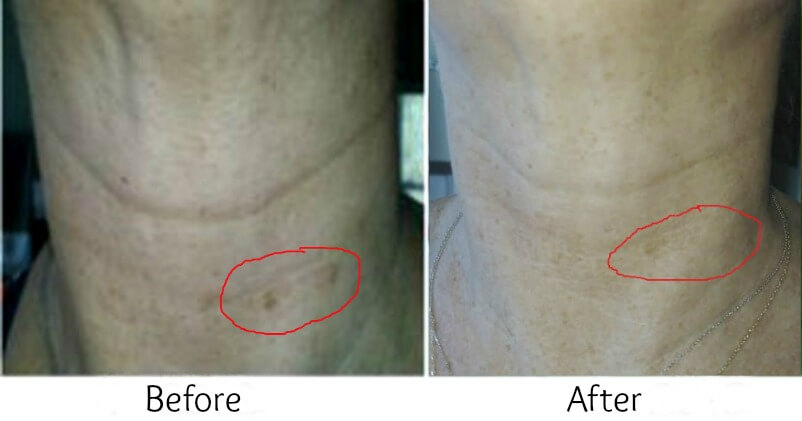 Studies indicate that topical vitamin C can help aging skin by improving firmness, tone and reducing fine lines. 1
It also helps reduce discoloration like brown spots.
You can see my neck improvements in the before and after picture above.
Not only is my skin firmer, but the deep wrinkles and brown spots are much lighter. 
But, it's important your vitamin C serum contains fresh 16% concentration of L-ascorbic for best results.
CFF Vitamin C Crystal Serum pH balanced 70% organic
or consider trying:
L-Ascorbic Acid Booster - this vitamin C booster can be added to your favorite cream or serum.
7.  Gua Sha Treatment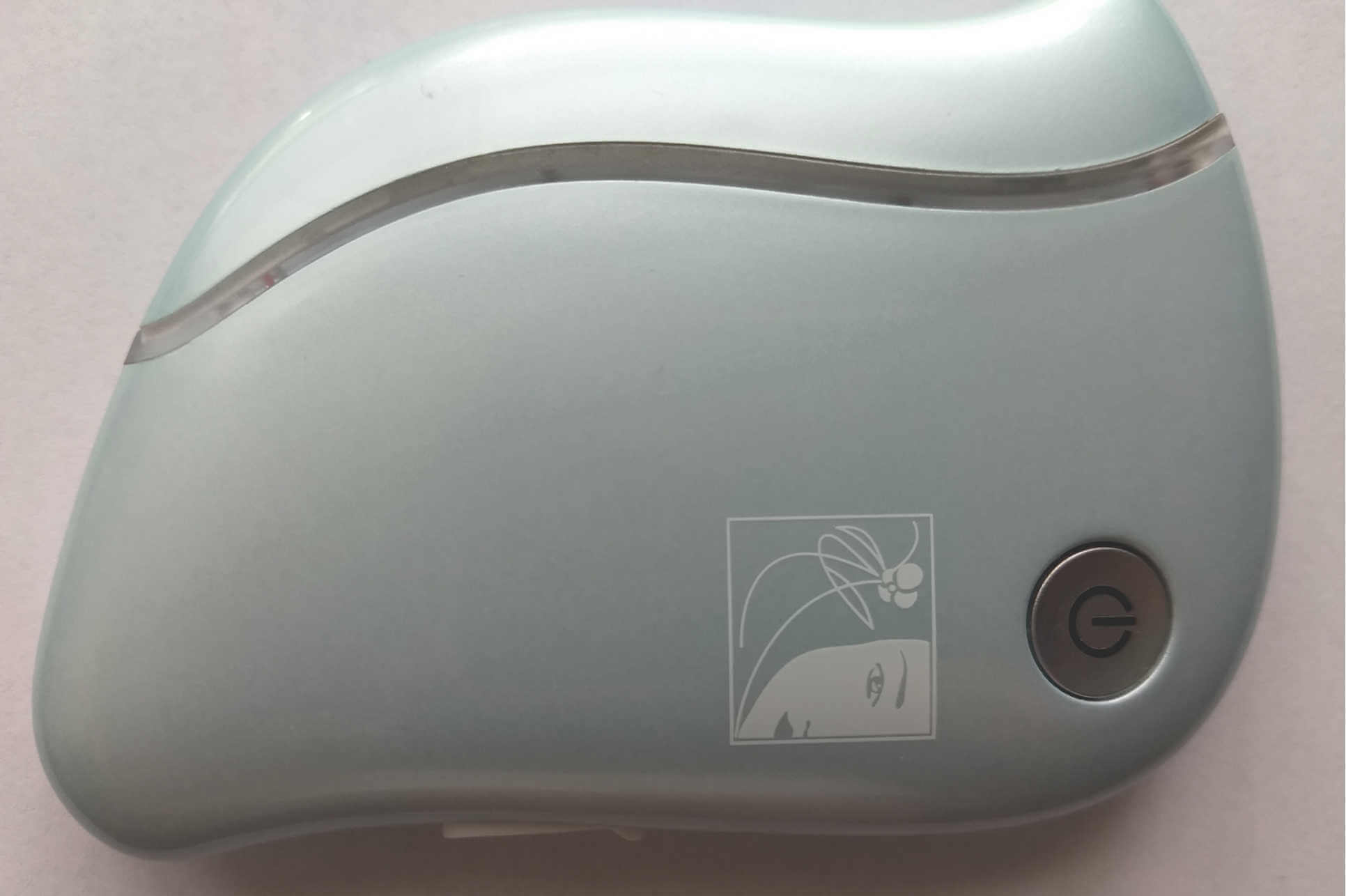 This Gua Sha helps increase fiber and collagen production to firm the neck and chin and allows your moisturizer to penetrate better.
It's special shape and angle allows you to get up under the neck and all around the chin area too.
The Gua Sha device offers 4 functions for better anti-aging benefits.

microcurrent
heat
red light therapy
vibration
8. Retinol for Wrinkles and Lines
We all know the power of retinoic acid to reduce lines and firm the skin.
Over-the-counter retinols are less powerful than prescription retinoic acid, but they're pretty powerful, it just takes longer to see results. 
Also, over-the-counter retinol creams have fewer side-effects since they're a weaker version of the prescription brand.
But, still go slow and test out a small amount first, since the neck skin is thin and can be sensitive.
Read more on for tips on how to select the best over-the-counter retinol creams.
9. Microneedling
Microneedling can help improve the appearance and texture of the skin. A microneedling treatment uses a roller with very tiny sharp needles to make small punctures (cuts) on top of the skin.
This in turn causes the body to start producing collagen in attempt to heal the cuts.
And, overtime, this extra collagen production can help improve skin texture, fine lines, and light scars.
However, generally, this treatment will not produce a significant tightening or lifting effect for sagging neck skin.
The main causes for sagging neck skin or "turkey neck" is due to aging, muscle loss and muscle weakness.

In the office, medical microneedling with radiofrequency might produce a slight tightening effect, but that depends on how much skin laxity you have to start with.
Your best bet is to consult a professional if you're the right candidate for this procedure.
10. Neck Firming Patches
Silicone neck patches help skin hold moisture longer and can improve the look of your neck.
These patches provide mostly temporary results, so you'll have to keep using them to maintain the benefits.
But, for special occasions, they're a great way to perk up sagging neck skin.
---
Sagging Neck Skin - FAQ
If you have any questions that have not been answered here, please feel free to ask more questions.
A: The use of Botox treatment (Botox neck lift) can give a more youthful appearance of the platysmal muscles. This cosmetic treatment relaxes the platysma muscles, so the vertical neck bands become less noticeable, reducing the appearance of an aging neck.
A: Yes, tech neck can cause vertical bands, neck lines, and contribute to a more prominent double chin. Tech neck is a term for a type of neck strain due to constantly looking down at cell phones and computers.

In addition to muscle stiffness and chronic neck pain, it also contributes to early appearance of jowls and horizontal wrinkles. Basically, this constant straining contributes to a look of aged sagging neck skin.

The best way to remedy this situation is to:

Stop looking down at computer devices for prolong period of times (I know, easier said than done!)
Try holding the device at eye level whenever possible
Some people might require physical therapy for the muscle strain, or oral pain medication
Try to firm neck skin and the muscles of the neck and lower face by performing the Neck Brush and Neck Ring Eraser. Check out my turkey neck before and after pictures to see how well neck exercises can help with sagging neck skin.
A: It all depends on the degree of your sagging neck skin and what's causing the issue. This cosmetic procedure offers best results for a suitable candidate with fairly reasonable neck skin.

The doctor places dermal filler injections all around the lower jaw and face (sometimes called a liquid face lift).

The added volume can offer a noticeable lift of the sagging skin in the lower part of the face and neck. However, to maintain results, you'll require repeated treatment sessions.
A: This popular treatment uses injection of Botox all along the lower face (jawline) and on the muscles of the neck (platysma bands). The muscles of treated areas become relaxed, creating a slight lift of sagging neck skin.
---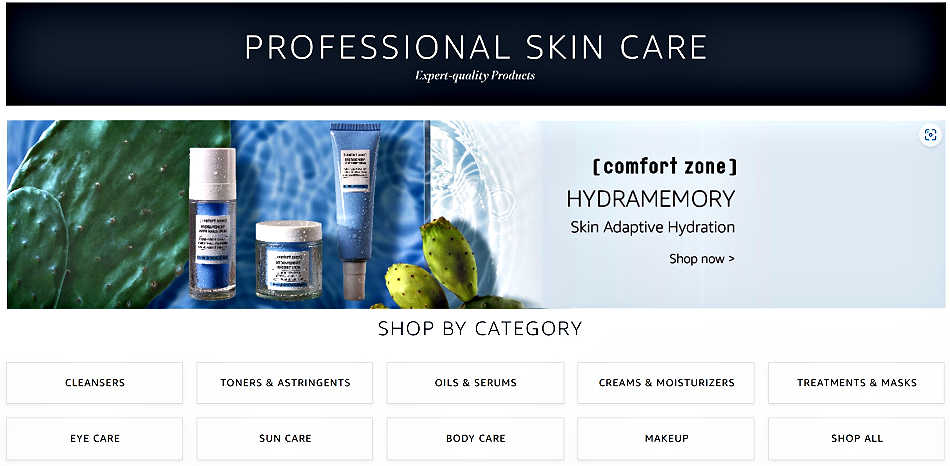 ---
Questions/Comments or Just Wanna Chat?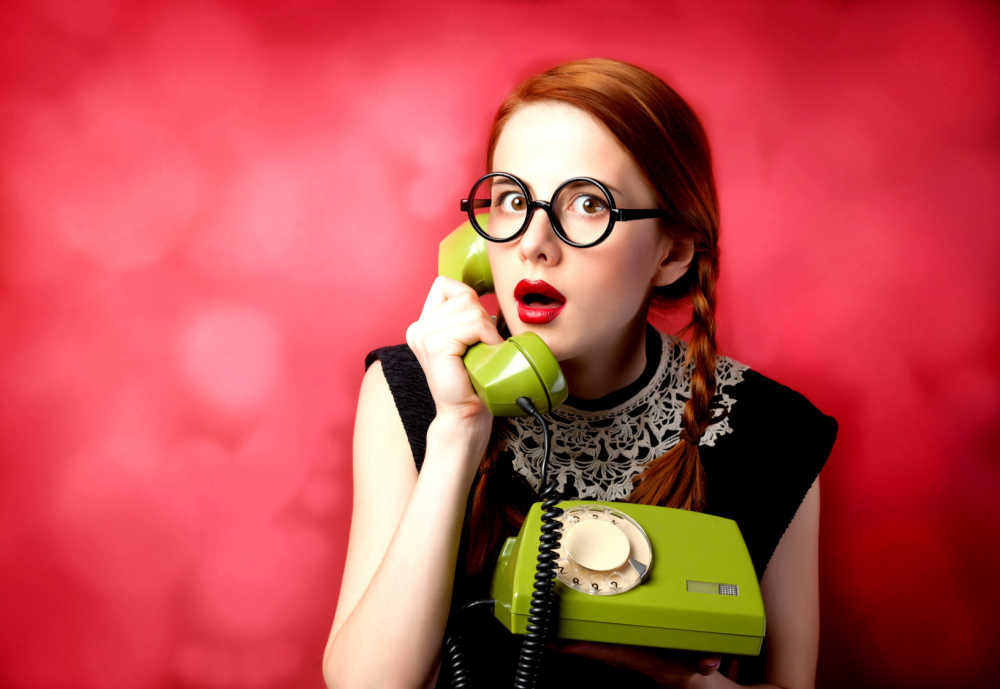 Visit the Anti-Aging Beauty Blog or contact me here.

Check us out at these locations: