Got Sagging Neck Issues?
Sagging neck, droopy neck, turkey neck, cording.....................most of these issues are caused by the platysma muscle which gets shorter, stiffer and weaker as we age.
This major muscle in the neck is a power horse when it comes to lifting/firming the neck area and the whole lower part of your face.
The platysma muscle is a flat, broad muscle that stretches across the entire upper chest, up the sides of the neck, under the chin and wraps across the lower whole jaw bone.

This muscle is also used to move the mouth and lips down and sideways. 
So the beauty of firming up the platysma muscle is that it can help improve the look of your neck AND jowls, droopy mouth corners, and marionette lines......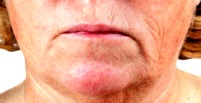 Marionette Lines
You know, those little annoying lines or folds that run down from the corners of the mouth?
Why the platysma muscle?
In terms of keeping your lower face lifted – the platysma is essential.
The problem is this muscle sags pretty early in life because it is a "floating muscle." This means it's not attached to facial ligaments or bone. And, to make it worse, it's naturally pulled forward by its own contraction.
Also, with age, the platysma becomes stiff and fibrous and begins to separate in the center of the neck. This is what contributes to those vertical bands that run up and down the center of the neck. They are sometimes referred to as "turkey neck" or cording.
Simple neck firming solution
The good news is, it's fixable. A comprehensive Face and Neck exercise program is a natural and effective solution to help firm the neck area  - and the rest of the face.
I know these exercises work because I've been doing them for a while and have seen very impressive improvements in the upper part of my face.
Also, see my BEFORE AND AFTER NECK PICTURES HERE....

In addition, facial exercises exercises can help stimulate skin and subcutaneous layers which improves skin tone and texture. 
Perfect! So What's the Downside?
I've been engaging in a "Neck Firming" workout challenge and documenting my progress with pictures. I want to be sure that facial exercises can really help firm up a sagging neck - which I've been told is the hardest part to firm up.
So far, I'm very happy with my results............
The Downside?
Well, the only real downside (besides setting aside 15 minutes, 3 times a week) is that results take time.
It took about 7 weeks to see my first real change. But, the good news is, improvements will continue as long as I stick to the program, which is really not that hard to do.
All in all, I still think it's a better alternative to surgery.
Sagging neck exercises
I would love to show you all the exercises for here on this site, but I can't as they belong to Carolyn's Facial Fitness program.
However, you can visit her site for more sample exercise videos and before and after pictures. 
You can also find more detailed information on how facial and neck exercises work, as she is the expert. 
However, I would love to give you an idea of how easy her exercises are. Here is a sample one for a double chin and sagging…….
Gulping Fish Neck Exercise
Place your open hand at the base of your throat, stretched across your collarbone.  
Holding your hand down, extend your neck up, leading with your chin and stretch with your bottom jaw, only, towards the ceiling.  
Do NOT swallow, but rather reach with your bottom lip towards the ceiling "looking" like a gulping fish. Make 10 "gulps". 
Do 5 sets, changing hands for each round.
Please keep in mind that this one exercise alone won't help much if all the other facial muscles are sagging and weak. Plus, your face won't look right.
If you haven't seen this before, check out the muscle chart below. It shows the connection between all the muscles of the face and neck. Click on each individual muscle to see what part of the face it affects.

Neck and Face Muscle Connections
And, as we age, spot training is futile. Eventually, all areas of your face will start to droop. Eventually, you'll want to lift them all together for a beautiful, elegant, and natural look. 
That's what I love about exercises to prevent sagging neck and face (unlike plastic surgery) you still look like yourself, just better.

Home

›
Turkey Neck
› Sagging Neck Solution
References:
Facial Exercises by Carolyn's Facial Fitness Neck Exercises 

Check us out at these locations:

ABZ Newsletter
Sign Up For Special Offers, Updated Pictures, New Product Information, Anti-Aging News, Tips and More.....
Additional  Information  You  May  Like: