Kansa Wand facial tips
Get the Most from Your Kansa Wand
Here are some simple facial tips to get the most out of your Kansa Wand:
If you've purchased the Kansa Wand - then get ready to enjoy the easiest, relaxing, and most effective DIY homemade facial you've ever had.
I usually do my Kansa facial while watching TV and sometimes get so relaxed and zoned out that I forget how long I've been doing it. 
No problem! There's really no downside or side-effect if you do it long than necessary.
tips using kansa wand facial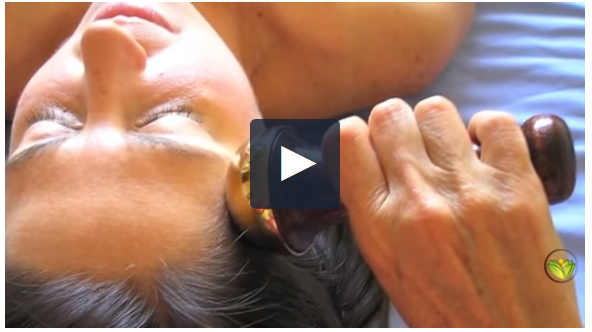 1. Before starting the facial make sure your face is thoroughly cleaned. You want to make sure you also remove any makeup, cleanser, or soap residue. If your cleanser leaves a film or residue, consider using a toner to get the skin extra clean.
2. Massage an organic oil all over the face and neck (and chest if you plan on using the wand there too. I highly suggest you use the wand on your chest as this skin ages quickly and the Kansa wand can help smooth that skin, over time).
Use enough oil so the wand glides easily across the skin. I usually use about 2 or 3 pumps of the organic oil that came with my wand. 

Once your face is oiled, you're read to get stated on your soothing, skin lifting facial. Gently hold the hand carved wooden handle and place the bronze metal dome lightly against you skin.
Note: You'll work one side of the face at time and then repeat on the other side. Here I'll start on the Right Side of the Face...............
3. I start at the center forehead and make little circles towards the right temple and back again. I do this motion back and forth a few times....do it as many times as you need.
If you have a tension headache feel comfortable to spend as much time as you need at the temple area.

To help ease the frown lines I also spend a few extra minutes going over the area in between the eyebrows.......Most of us have lot's of tension wrinkles there!!
4. Now move down the face and place the wand on the outside of the right eye and glide the wand all around the eye in both directions - clock wise and then counter clock wise. Just let it light slide around boney areas of the nose and eyebrow..........If feels WONDERFUL! 
I like to concentrate on the skin under the eye and at the crow's feet to help smooth out those tiny lines and crinkly skin. Take as much time as you need, especially if you have pain or wrinkled skin in that area.
5. Continue on the eye area but make the circle bigger so you sliding all around the cheekbone and below.
6. Next, move down the right ear and make small circles up and down the right jaw line. Some with TMJ issues like to concentrate where the jaw bone joint is in front of the ear.
7. When you're ready move down to the mouth area. I like to make circles around my whole mouth and concentrate on the upper and lower lip and chin area.
8. Now move down the whole right side of your neck and under chin area.
9. Repeat this on the other side of the face. Once your done, you can move the wand back and forth across the chest too.
These are just basic facial tips - you can perform the Kansa Wand facial anyway you wish or just concentrate on certain areas that have more wrinkles on one day and other areas the next.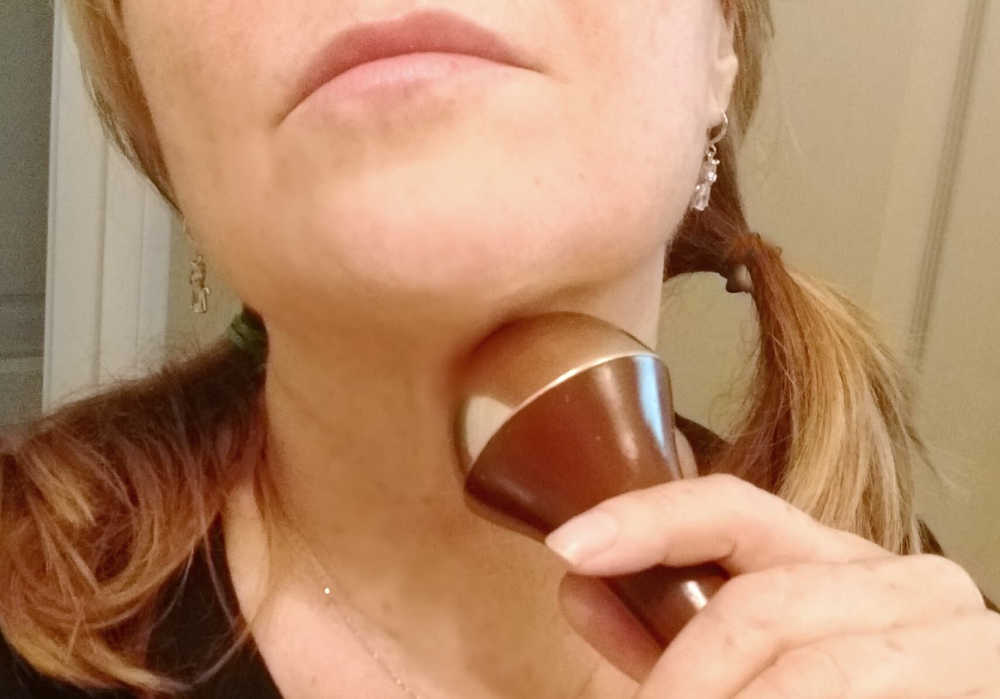 My personal facial tips using the wand
I usually do the Kansa facial a few times a week. But I also spend some days just concentrating on areas that bother me like:
in between the eyebrows
crow's feet
nasal labial folds
neck wrinkles
chest wrinkles
Remember, these are just basic facial tips. You can do the massage anyway you wish, there is no downside. It's all good!
Home

›
Beauty Product Reviews
› Kansa Wand Facial Tips
Questions/Comments?
Visit the Anti-Aging Blog and see what others have to say.
Wanna chat? Contact me here.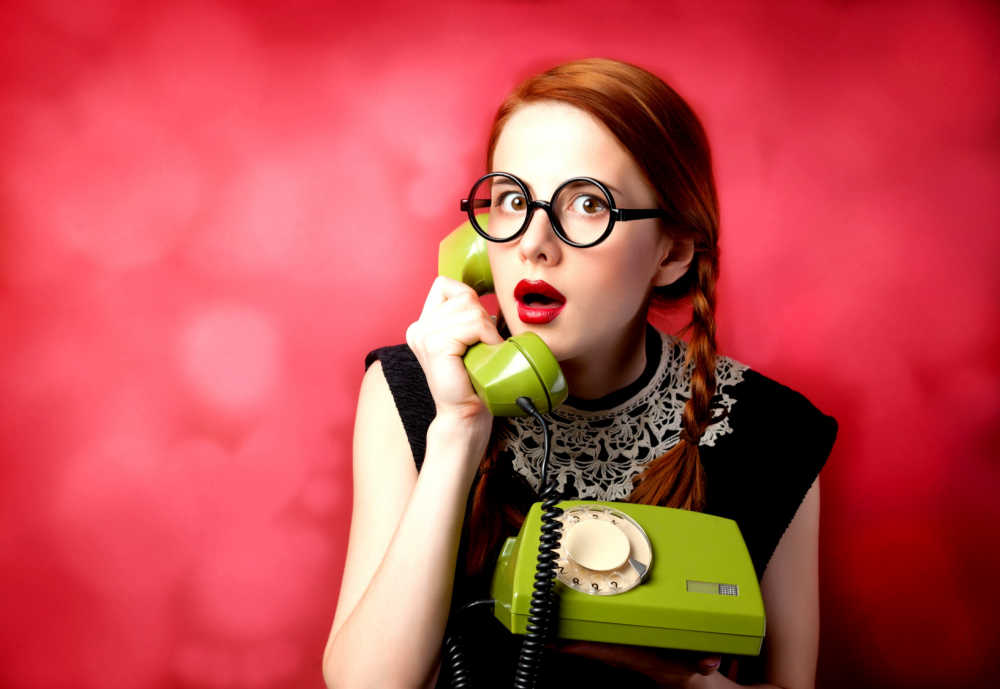 Check us out at these locations:

ABZ Newsletter
Sign Up For Special Offers, Updated Pictures, New Product Information, Anti-Aging News, Tips and More.....
Additional  Information  You  May  Like: