How to Lose a Double Chin
and Firm Your Lower Face

Want to know how to lose a double chin naturally - without surgery?
You may be able to reduce and firm that sagging bulging skin under your chin with facial exercises (that include specific neck and chin exercises) and facial cupping massage.
Facial cupping due to the gentle suction it creates - can help temporarily reduce excess fluid in the face and chin - creating a more contoured look.
It can also help smooth fine lines.

You can see my results after just 6 months (3 times a week) using a facial exercise program and facial cupping.


Visit Sagging Neck to see how far I've come! It's hard for a woman to show bad Before pictures of herself, but it's important for you all to understand how really effective this facial workout program has been for me.

How to lose a double chin naturally
Double chin/neck exercises work well together to help lift and firm jowls, neck, under chin and chest area. Exercises can help to:
Build up and tone muscles creating much needed volume and lift.
Tone skin due to increased blow flow and production of collagen and elastin.
Prevent and restore facial bone loss. As we age the bones in our face begin to shrink. This process contributes to classic signs of facial aging like sagging skin, facial folds, drapes, hollowed eyes, flatten cheekbones, droopy jowls, chin, neck, chest……to name a  few.
Double chin/neck exercises
Ok, so here are few simple double chin and neck exercises to try.
1. The brush......................
2. The Tongue Press.................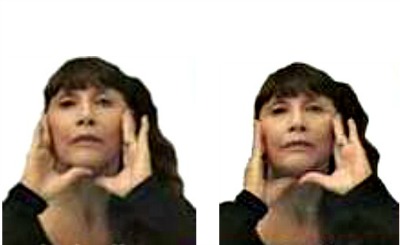 Place the pads of each thumb in front of the other, resting under the chin, fingers resting against the jawbone.
Press your tongue against the roof of the mouth and then slide your thumbs, alternately to back (to where the under chin meets the neck), making a rhythm of one thumb slide for every tongue press.
You should be able to feel the muscle under your chin as you slide and press your thumbs.

Do this for a count of 40 - twice a day for two weeks. Soon you'll see the double chin area firm up. 
Photo/video above courtesy of Carolyn's Facial Fitness. Click here to see more free facial exercises....

Click on this fun active muscle chart to see which muscles get a workout with these exercises!
3. Facial Cupping.................

After applying a light layer of oil on the face, place the facial cup on the back part of the left lower jaw.
Squeeze the cup to create suction, then slide the cup toward your chin and around to the right  side of your jaw line.
Then slide the cup back to your left. Repeat this gentle sliding motion 5-10 times.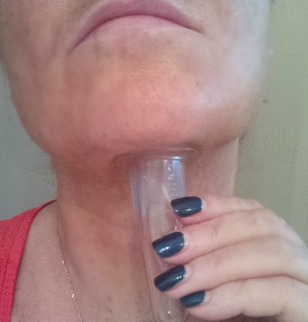 Next, make sure your chin is well moisturized or oiled and place the cup under the chin on the left side of your face. 
Squeeze to create suction and slide the cup across the double chin area to the right side.
Repeat this motion 5-10 times or more if your face is very bloated.
NOTE: Never let the suctioned cup sit in one place too long or it might leave a slight mark.

How long will it take to lose a double chin?
The length of time, of course, will vary depending on age and how often you do them and if you do the whole facial exercise program or just the two double chin exercises listed above.
But, in general, people start to see some small changes within 2 weeks. I started to noticeable results in about 3 weeks. Dramatic results can be seen in about 6 months to a year. Once you start to see results…….you're hooked.
Want to know how to lose a double chin faster?
Try to perform the whole facial workout to firm up the foundation of the face. It only takes a few minutes a day.
This will help ensure that everything from your forehead to your chest is firmed up and toned. Then (if you still need to) you can add a few extra bonus exercises like those listed above for those hard to tone areas – like the chin and neck.
Double Chin Causes
Excess weight – If you're overweight weight loss should be your first step to help reduce a double chin. Natural or surgical procedure may not even be necessary once the excess weight has been eliminated.
Hereditary – If either one of your parents have a double chin then chances are pretty high that you'll have the same issues. Some plastic surgeons feel that this is usually due to certain facial structures. Sometimes the fat pad under your chin may seem more prominent if your face or chin is smaller or narrower.
Age - In many cases, what looks like a double chin is really the result of skin sagging. With age the neck muscles (the platysma) loose elastic and become stiff. The muscle begins to droop forward causing fat pads and skin to protrude forward. 
In addition, lost skin elasticity, lost facial volume (natural subcutaneous fat) and facial bone shrinkage all contribute to drooping and sagging skin under the chin and neck area. Which makes it almost impossible to lose a double chin unless you have surgery or at least help firm up the underlying muscles.


Home

› How to Lose a Double Chin
Check us out at these locations:

ABZ Newsletter
Sign Up For Special Offers, Updated Pictures, New Product Information, Anti-Aging News, Tips and More.....
Additional  Information  You  May  Like: