Preparation H for Puffy Eyes
Like thousands of other women, I've tried Preparation H for puffy eyes and under eye bags. After weeks of applying the Prep H under my eyes and on my upper eyelids - nothing really changed.
The only I difference was that if I used the formulation at night before bedtime, I usually woke up with worse under eye bags than days when I didn't apply it at night.
Oh, but my skin looked smoother, I suppose it's because Preparation H contains mostly petroleum jelly.
Why some say Preparation H works for puffy eyes
Being desperate to do something about those bags under my eyes, I kept doing more research on Preparation H for under eye puffiness. I wanted to know:
How did this rumor get started?
Who started it and why?
Did it work for anyone, ever?
Most of the information I found on the internet about this "myth" was from the late 70s and 80s. Apparently, Preparation H was the go-to under eye miracle smoother for models and beauty contestants.
They all swore this oily concoction really worked to reduce under eye swelling.
And why shouldn't it? One of the claims Preparation H makes in their commercials and right on the label is that it "soothes and reduces swollen tissues"…………
Well isn't that what our puffy eyes need? Something to soothe and reduce swollen tissue?
Preparation H formula change
Preparation H - Original Formula from Greece
So, what I later found was that the original Preparation H formula changed.
It used to contain Live Yeast Cell extract and Shark Liver Oil, which I think were the main active ingredients. And (for reasons unknown) the Preparation H formulation sold in the United States no longer contained them.
Live Yeast Cell extract and Shark Liver Oil are known to have anti-inflammatory, soothing, and healing properties. 
Apparently, if you intended to use Preparation H for puffy eyes - it had to be the original formula to be effective. Even though I couldn't find any studies indicating that these ingredients are effective in reducing inflammation of the eye!
So, I still don't know why people raved about Preparation H for puffy eyes, but I was determined to find out if it worked! I managed to find the original Preparation H formula on the internet, from Greece. 
So I bought it!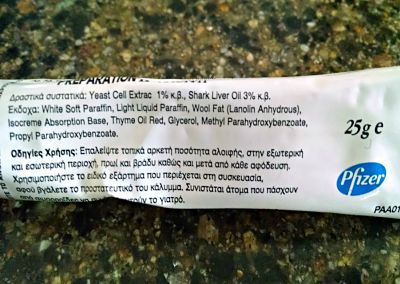 Preparation H Original Formula with Live Yeast Cell extract
I was so excited to try it!! But, to be honest, I never noticed a difference – even after days of using it.
I even kept it in the refrigerator hoping the coldness would further help reduce under eye puffiness.
Just imagine how embarrassing it was when guests/friends happened to help themselves to a beverage or snack and open my refrigerator to find a tube of hemorrhoid cream sitting on the shelve next to the mustard……………..

My old favorite standby for puffy eyes
Well maybe Preparation H didn't help my puffy eyes, at least I still have my old standby favorite -  the Instant Eye Tuck serum.
It's been my favorite eye lift serum since 2012 because nothing I've tried works as well as this serum does. Other serums may work to reduce the look of puffy eyes, but left my sensitive skin tight, dry, or peeling.
Even though my serum helps reduce the look of puffiness and crinkly skin under the eyes - wouldn't be awesome if I could REDUCE the amount of under eye swelling during the night?
On most days, the eye swelling is usually worse in the morning (mostly in my right eye- which has always been a problem for me) and gets a bit better by late afternoon.
I was hoping the Prep-H could be used at night to reduce the amount of inflammation and then use my serum in the morning to help further reduce the look of puffiness........
However, this gave me an idea................... I'm going to try to apply the serum under my eyes BEFORE going to bed – to see if it will help reduce that typical excess morning swelling…………………………
Stay tuned, I'll let you know how it turns out :-)
---
P.S. Even though the original Preparation H did not working for my puffy eyes and despite the fact that the company says it is not meant to be used around the eye area.....a few folks still want to know where they can get the original Preparation H formula with Shark Liver Oil.
I purchased mine from Greece. I no longer have that link...................
However, I found a few for sale on ebay from Canada. Don't know much about them, but click on the link below to see those listings........
Original Preparation H
---
Also See:
Eye Makeup Tips for Tired Looking Eyes

Home

›
Beauty Product Reviews
› Preparation H for Puffy Eyes
Check us out at these locations:

ABZ Newsletter
Sign Up For Special Offers, Updated Pictures, New Product Information, Anti-Aging News, Tips and More.....
Additional  Information  You  May  Like: