Beauty Product Reviews
Real beauty product reviews by real women.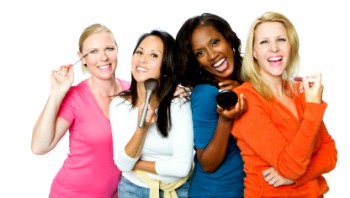 I don't know about you – but sometimes I could use help selecting beauty products and cosmetics.
There are so many to choose from, I'd like to hear some feedback before making a decision.
Which skincare products are worth the money?
Which anti-aging tips really work?
What home remedies are worth trying?
I always thought it would really helpful if I could hear honest opinions or reviews about the latest anti-aging treatments, beauty brands, or hottest cosmetic procedure.
I'm sure you feel the same way…………….So please share your opinion, experience, or reviews with everyone.
Let's help each other make smart decisions. We'd love to hear what you think. I'll also post my results and reviews with products I've tried.
Beauty Product Reviews
Face and Eye Cupping Therapy - It's not often I get so excited about an anti-aging product. But this Chinese anti-aging cupping massage therapy is huge! It's easy, effective and good for your health. 
Olay Regenerist Products - Regenerist Wrinkle & Pore Vanisher Targeted Filler. How well does it really work?
ORIGINAL Preparation H for Puffy Eyes - I found the original Preparation H formula. The one with the anti-inflammatory ingredients that everyone used to rave about. Here are my results...
Beauty Tips for Aging Eyes - 2 FAVORITE products I'm loving right now! See before and after pictures here..............
My Retinol Cream Reviews - I've tried a few drugstore and online retinol creams and serums over the years....And here are my results.
Under Eye Puffiness - I'm on a mission to find the best under eye firming gel that can help tame my eye bags! Here is my experience & review on how a few of the popular serums worked for me.
Under Eye Lines - I tested Peter Thomas Roth FirmX against Easy Eye Solution Instant Eye Tuck. See which one helps hide under eye lines better....
Face Cream with Retinol - My cheap beauty tip for creating your favorite face cream with 1% retinol.
Roloxin - Not An Anti-Wrinkle Peptide - But women swear this mask reduces face wrinkles. Some compare it to a natural Botox................
Gel or Liquid Eyeliner - Which is one best for women over 40? How to apply? My favorite pick.....
Hyaluronic Acid Cream - How many hyaluronic acid creams and serums have you tried before you realized that they just don't work as expected?
My 2 Best Eye Care Products - 2 eye makeup products that I can't live without......
Garnier Eye Cream - Here's my take on this inexpensive eye cream..........
My Remedy to Hide the Bags Under My Eyes - So far, this is the best remedy I've ever tried to reduce the look of bags under my eyes......
Eliminating Sun Spots on Skin  - What worked for me - Forget natural remedies, they didn't work for me.......
Lifecell Anti-Aging Cream - Worth the Money? - I am  bombarded weekly with questions about Lifecell skin cream.......
Dark Eye Circles - Looking at pictures of myself during childhood, I can't help but notice my dark eye circles before anything else.....
What is BB Cream - My rants and reviews.......
Other Favorite Anti-Aging Beauty Routines

Got a Comment?
Your comments are important to us!

What Other Visitors Have Said
Click below to see contributions from other visitors to this page...

Home

› Your Beauty Product Reviews

Like This Page?  Please Share :-)

Check us out at these locations:
ABZ Newsletter
Sign Up For Special Offers, Updated Pictures, New Product Information, Anti-Aging News, Tips and More.....
Additional  Information  You  May  Like: