Hello and Welcome!

Are you tired of looking tired? Does the skin under your eye look crepey or crinkly?
Well, I have a solution that works great on my eyes!
After trying literally dozens of eye lift gels - this easy eye solution has been a miracle for me. It works gently to firm up and smooth out under eye crepiness.
But, it does not dry my skin.
Plus, it works on top of my favorite moisturizer - which is a big plus for me. Many of the typical eye lift serums and gels require you to apply it onto clean, dry, oil free skin.
I can't do that! At this age (over 50) I NEED my eye moisturizer.


Here is an untouched before and after picture using the eye lift serum.......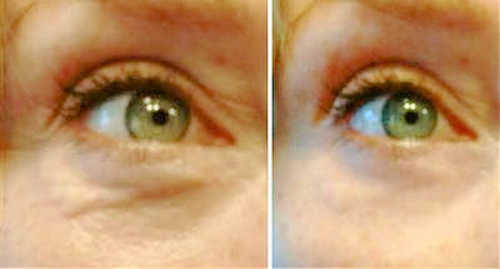 The trick is to let the moisturizer set and fully absorb for 10-15 minutes first. THEN I lightly apply a thin layer of this eye lift serum.
We are now offering sample sizes for those who wish to try it......And - as always - Shipping is Free within the U.S.
Click here to learn more........... Easy Eye Solution Serum

Thank you very much for subscribing!

Best,